Using hydrogen energy is as important as using electric vehicles when it comes to tackling the global warming menace. Hydrogen energy can be used not only in the transport sector but also in heating industries (e.g., in boilers). In the future, the UK government is looking forward to replacing natural gas boilers with the more active, environmentally friendly hydrogen gas.Costs The UK is Likely to Incur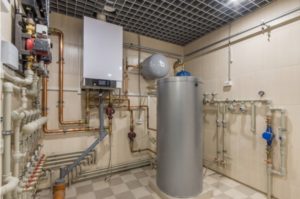 For hydrogen to replace gas in boilers and other forms of energy being used currently in the UK, the government will have to spend approximately £50 billion according to an assessment by KPMG (the whole system is estimated to cost £150-£200 billion). The cost is higher compared to switching to electricity from nuclear. It's also renewable compared to gas.
Some of the Companies Working on Hydrogen Energy Production Project
Cadent, a company that supplies gas to almost 50% of UK homes will need £600m to work on hydrogen energy supply in Liverpool. It is also expected to provide the energy to Manchester currently being served by ST Heating Services Ltd one of the best firms for commercial gas repairs, maintenance and installation. ST Heating Services Ltd has continued to dominate the market due to customer satisfaction as well as offering high-quality and affordable heating solutions in many parts of the UK.
Industries are the primary target when it comes to switching to hydrogen; after this, the project will extend to residents where hydrogen will replace natural gas in boilers. The government aims at achieving this by 2020.
How Companies will Produce Hydrogen
The government plans to use the steam-methane reforming method to produce enough hydrogen for all UK residents. The process will, however, produce little amount of carbon (IV) oxide. The emitted gas will be captured and disposed off accordingly through CCS (Carbon Capture and Storage) to eradicate decarbonisation entirely. Electricity-powered electrolysis is another method that companies will use to produce hydrogen.
Other Energy Forms That Will Be Used Alongside Hydrogen
There are other frameworks that the UK government aims to achieve in future for heat supply in buildings alongside hydrogen. Some of these include:
Heat pumps – Although it is costly to install heat pumps, they are among the most effective technologies that meet cost efficiency and heating quality expectations. The project requires minimal maintenance requirement and runs at low costs.
Hybrids – Using heat pump hybrids is a perfect option for retrofits. They have smart programming features making them super-efficient.
To ensure that you benefit from affordable services when hydrogen replaces gas in boilers, it's recommended you continue getting professional services from ST Heating Services Ltd in North West and Manchester, UK. The firm is ready to embrace future changes to improve energy efficiency for their customers. You will be better off when you choose a flexible service provider such as ST Heating Services Ltd for your heating solutions.
With hydrogen energy, toxic gases that are likely to cause global warming are not emitted. It is one of the most efficient energy sources. Soon, many well-known firms such as ST Heating Services Ltd will have the privilege of installing hydrogen-powered boilers to all its customers.