Call ST Heating Services Ltd on 0161 279 0137 if you need assistance with commercial boiler breakdowns. Having to deal with this situation can be a massive nightmare for any organisation. Boiler breakdowns can be expensive, inconvenient and lead to a huge morale problem with the members of staff. However, there are certain precautions that can be taken to ensure a commercial boiler faces minimal disruption and lasts for a long time.
In a business setting a boiler is vital all year round, and employers have a duty to their employees to maintain the boiler's functional operations for common welfare needs and any extra requirements specific to the company. This means there are several things that can be done to prevent problems turning into breakdowns while also prolonging the lifespan of the boiler.
Insulate Pipes to Prevent Breakdowns
A common issue experienced with commercial boilers is the seizing of pipes when the temperatures are low. Condensate pipes often run outside the building and when they freeze up, the boiler can breakdown. Insulation of pipes can be done in different ways and is fast, straightforward and inexpensive to complete.
Boiler Breakdowns: What To Do
If your boiler breaks down out of the blue, there are several checks you can do yourself before calling a professional. A breakdown in winter can be particularly stressful for a business, so check out our guide to what you can do in the event of commercial boiler breakdowns.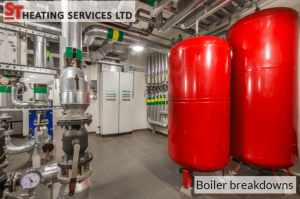 Invest in Annual Service to Prevent Boiler Breakdowns
Even if all the parts seem to be running as they should, an annual service from a professional contractor can help to ensure the boiler is a cost-effective investment for the business. A boiler service done in September or October ensures that the boiler is working properly, is cleaned, inspected and geared up to withstand the strain of working throughout winter.
ST Heating Services Ltd provides professional services for industrial and commercial boilers, heating and plumbing servicing, repair and maintenance in Manchester and throughout the North West, UK. We can provide the expert help you require to keep your company running, so call us today on 0161 279 0137 to schedule an appointment.
Reasons To Use ST Heating Services Ltd for Commercial Boiler Breakdowns
Wide range of commercial & industrial heating and plumbing services offered.
Gas Safe (Corgi) registered contractors.
Approved contractors for many leading councils, schools and large businesses throughout the North West, UK.
Highly experienced team of  professional plumbers and contractors.
Competitive rates offered with a high quality service.
Get in touch with our boiler specialists on 0161 279 0137 or send us an email enquiry to:info@stheatingservices.co.uk. Alternatively, fill in your details below and our team will be back in touch to aassist you further.