The idiom "if it ain't broke, don't fix it" may not best apply when it comes to old boilers. It may be tempting to delay forking out thousands of pounds for a brand new boiler when the old one hasn't packed in yet. However, when it does break down unexpectedly, it might be in the middle of winter. What's more, because it was unanticipated, there might not be the emergency money available to fix the problem immediately. It's not unusual for property managers and owners to wait until their commercial boilers shut down completely before they repair them. What they don't know is that boiler maintenance is a serious issue, and ignoring a small problem could lead to more severe and costly problems. But extra cost is not the only thing that should make property managers and owners take boiler repairs seriously. Even a small boiler malfunction could pose a danger to those who use the property. Boilers use electricity, and we all know the dangers of electricity. Like any other electronic unit on your property, your commercial boiler needs regular repair and care.
In order to avoid the cold and help stay more safe, it may make sense to replace an old boiler before it stops working. There are several warning signs which indicate that it is probably time to upgrade your commercial boiler.
Six Signs That it's Time to Replace a Boiler
How Old Is Your Boiler?
The lifespan of a commercial boiler can range from 15, to as many as 30 years or more. However, boilers tend to become less energy efficient as they age, so even if it is still working for now, it may be time to replace it.
Keep an Eye on Your Energy Bills
If energy costs increase, it could be your boiler losing efficiently. Have it looked at in order to determine the reasons behind the higher bills. Replacing it may save you trouble in the long run.
Leaks
Is your boiler leaking? Does it need extra makeup water? If so, this is a sign your commercial boiler has a serious problem that you need to address as soon as possible. If you ignore a leaking boiler, you can be sure that you will end up spending more money in the long run. The sooner you call a repair to fix the leaking issue, the better. Leaks and flooding can prove to be costly. If this is the case, or if the boiler requires additional make-up water, your boiler may be on the brink of breaking down.
Loud Noises
Yes, it's normal for boilers to produce some noise. However, if you hear loud whistle or bangs, these are sure signs that something is not right.Loud noises such as clunking and banging could be caused by blockages or pressure issues. Either way, it also indicates that the boiler needs sorting out soon.
Uneven Heating
Are some parts of the building too hot or too cold? Do temperatures vary throughout the day? This could be linked to a problem with the controls. If you notice that your commercial boiler is heating some areas more than the rest, call a technician immediately. Uneven temperatures are a clear sign that your boiler has an issue that needs to be addressed. The technician will check and tell you if your heating system needs to be repaired or not. Get your unit checked out and it may be worth considering an upgrade if necessary.
Frequent breakdowns
Frequently breaking down is a sign it might completely give up soon.
When Does A Commercial Boiler Need Servicing?
Commercial boilers are an integral component of human life, with UK only having more than 26 million of commercial boiler units installed. This is such a big number because people appreciate the service they receive thus it is imperative that there boilers are serviced to ensure that they perform at optimal levels. The average service life of a commercial boiler is approximately ten to fifteen years with adequate service.
Annual Maintenance
When it comes to the first service, servicing your boiler should take place a year from the date of installation. However, some manufacturers may recommend 24 months from the installation date as acceptable.
During summertime, boilers are often not in full use as it would during the winter. Colder temperatures can prove to be troublesome for plumbing systems and central heating when it comes to boiler servicing in Manchester. It's for these reasons that annual maintenance is best during the summertime. Furthermore, It's good to ensure your boiler is in good working condition when the colder winter months arrive.
Falling Inefficiency
Any boiler will experience wear and tear over time, and parts can become worn or broken. As a result, it can lead to you not getting the needed heat, especially during winter. Additionally, it can also end up costing you more in electricity bills.
Getting faults and other problems such as sludge, rust and limescale build-up identified and fixed soonest will help you avoid larger expenses at a future point in time.
Servicing as a Preventive Measure
Don't wait until when serious problems arise to have the boiler serviced, have it serviced annually. Annual servicing is sufficient to keep your boiler working smoothly and efficiently.
A boiler that isn't efficiently running can cost you money, so ensure you get your boiler serviced irrespective of whether or not it's new, or you are facing some problems with it.
How Do You Know When Your Boiler Needs Servicing?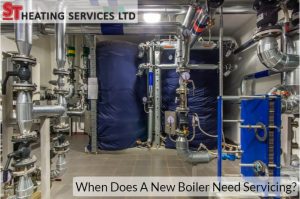 Boilers are a great way to keep your premises warm and comfortable. However, even when they are this effective, there are sometimes that you may notice reduced effectiveness. You should call in for assistance from reputable boiler servicing in Manchester.
Why should you have your new boiler serviced?
With any new boiler, it is crucial to ensure that servicing is regular to help prevent any breakdowns or faults occurring and also to maintain its performance.
Boiler servicing in Manchester involve business insurance policies and warranties, where you're required to complete a regular service to keep them in good condition.
Steps in servicing commercial boilers
Before you outsource for maintenance services, it is vital that you first find out their Gas and Safety Accreditation. That is why we ensure that you receive world class services following these outlined steps:
1. Visual inspection: We ensure that look at the pipework, flue and boiler to ensure that they are correctly installed including every component both internal and external while basing our assessment on the existing regulations.
2. Checking the components: We will dismantle your boiler to take a look at every component including the burner, gas pressure and flow, heat exchanger, seals, electrodes, safety devices, spark probe, fans, condensable trap and pipe, main injector, flue and combustion among others.
3. Testing: We then conduct a performance test to make sure that your system is working in accordance with the set regulations while fixing any arising faults.
4. Reporting: When we are done, we will provide you with a report that extensively give you a picture of the whole process and informed if your boiler is in violation of any regulation.
5. Signing of documents: At this stage, we would just need you to sign a report to ensure that everything is up to your liking. You may need these document in some instances.
If any of these warning signs sound too familiar, ST Heating Services Ltd have the solution. Completely replacing the boiler may not always be necessary but have it checked out as soon as possible. We offer high quality repair and plumbing services. No boiler, pump, pipe or LPG repair is too big or small. For industrial and commercial gas engineers throughout Manchester and the North West, contact ST Heating Services Ltd.
Below are some of the main frequently asked questions answered which we are often asked at ST Heating on boiler servicing:
Why are boiler surveys important?
Boiler surveys are critical in the normal functioning and performance of thermal oil heaters and boilers. A general boiler survey involves checking any deformations; build up deposits, or any wastage of plate work. Also included in the check are the piping system and various other components of a boiler.
What are the types of boilers that can undergo a survey?
Boilers come in various shapes and forms. There are cylindrical fire-tube boilers, super-heaters, multi-tube boilers and various others. All these types of boilers need to be inspected annually because they are used to produce steam.
What are the areas involved in a survey?
It is paramount to see if the present installation is properly fitted. This process is important because it determines the overall output of the boiler.
The survey should also include a section that checks whether your boiler installation complies with government rules and regulations. The regulations set by the government ensure that the boilers are completely safe to use. When found in violation, you can face a hefty fine.
The third part of the survey should be about the economic viability of your boiler. It is imperative to assess if it is economical to maintain the boiler and restore any broken parts or if buying another boiler is best for you. All these are critical parts of the survey.
Additionally, the survey should shed some light on the energy efficiency of the plant room, the boiler, and any affiliated systems.
Lastly, the survey can help assess and determine how much replacing a boiler should cost. Further, the survey should include the costs of replacing parts of the boiler that are beyond any repair. You cannot simply replace a boiler or any constituent part blindly. The cost you incur might be too high.
What is the true cost of commercial boiler breakdowns?
For any industry, a boiler is vital for sustaining daily operations. So, commercial boiler breakdowns can bring most of the production operations to a halt.
Boiler breakdowns can cause severe morale loss among your employees, leading to an overall drop in production. No employee would want to work under uncomfortable conditions such as a freezing office or broken air conditioning systems. An employer owes employees good working conditions if they expect productivity in return. So, you should expect low production from your employee if their working conditions are below what is expected.