Commercial Gas Engineers
Gas Engineers Manchester
ST Heating Services Ltd specialise as commercial gas engineers in Manchester. Based in Swinton, our contractors cover all areas in the North West, providing a professional, friendly gas service for commercial boilers in and around Swinton. We operate to the very highest gas safety standards and are registered with the Gas Safe Register, the official list for gas engineers to ensure they are qualified, as well as working safely and legally on central heating systems, boilers, cookers, fires and all other gas appliances.
As well as the Gas Safe Register, we are also registered with other industry bodies including Constructionline and Corgi.
Here are some of the commercial gas services we can help with:
At ST Heating Services Ltd, we have been operating as gas engineers in Manchester for many years. Specialising in heating and gas services, we pride ourselves on offering you a professional, hassle-free service at competitive rates. Our experienced contractors are Gas Safe registered and will operate at the highest standards for any work undertaken. Here are some of the many benefits of working with us:
We offer a range of gas services including boiler repairs and maintenance.
Our gas engineers in Manchester can cover all areas in Manchester or Swinton.
ST Heating are approved plumbing contractors within the North West.
We are Gas Safe registered as well as with Construction Line and Corgi.
We have the experience and expertise in the industry to assist you.
Commercial Gas Servicing Manchester
Many local businesses in Swinton and around Manchester rely on us for commercial gas servicing. Our highly experienced Gas Safe engineers install and maintain their gas boiler systems. We work hard to comply with gas safety regulations, ensuring your premises are kept safe and legally compliant. Whether the business is small or large, we are on hand to meet your gas heating needs and can help you choose the right type of boiler system.
On Hand When You Need Us
Our gas engineers work tirelessly around the clock and are on hand whenever you need us. We promise not to bombard you with technical jargon and are respectful to your property, home or place of business. Thanks to our location in Swinton, we are able to cover the Greater Manchester areas with ease.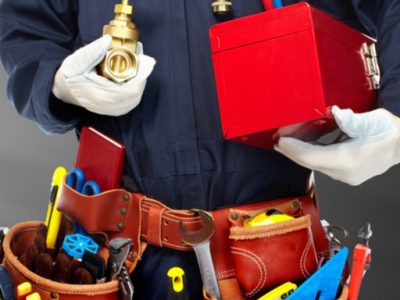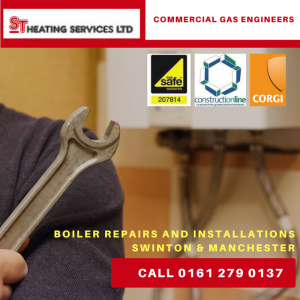 Our gas installations, boiler repairs and maintenance quotes are competitive and easy to understand. ST Heating Services have built up a great reputation within the industry and we take pride in our work, whatever the job. Our aim is to ensure your gas boiler or heater is installed or repaired efficiently with hot water available at any time so you are not left in the cold for too long without central heating in place.
As gas engineers in Manchester, we ensure our service vehicles are well equipped for each job we undertake so that any unnecessary delays are avoided. We operate throughout the North West and work with many different agencies and businesses for heating repairs and gas safety inspections. From gas safety inspections to gas fire servicing and gas boiler installations, we are your main point of contact if you are seeking reliable, efficient and friendly gas engineers in Manchester, Swinton or throughout the North West, UK
As well as helping as commercial gas engineers, we also provide a range of commercial and industrial plumbing services. Call our expert gas engineers in Manchester on 0161 279 0137 or get in touch via email at info@stheatingservices.co.uk for a quality, professional service. Alternatively, fill in the enquiry form below and we will be back in touch as soon as possible.
Look no further for Gas Engineers in Manchester!
Our gas engineers services cover all types of boiler repairs, dual fuel burners or LPG units which are used in commercial or industrial environments. We are based in Swinton, within the Greater Manchester area so we are ideally suited to get to your location quickly, for when you need us straight away. With the winter months ahead, don't get left with a boiler which is out of commission. Give our gas experts a call to see how we can help, on 0161 279 0137 or alternatively contact ST Heating Services with any queries.
What is Commercial Boiler Maintenance?
Commercial boiler maintenance is the regular servicing of boilers on a regular basis in a proactive manner to assist reduces downtime. When the interior of a boiler is afflicted by deposit accumulations of corrosion, wear and tear the energy usage gets to increase intensely.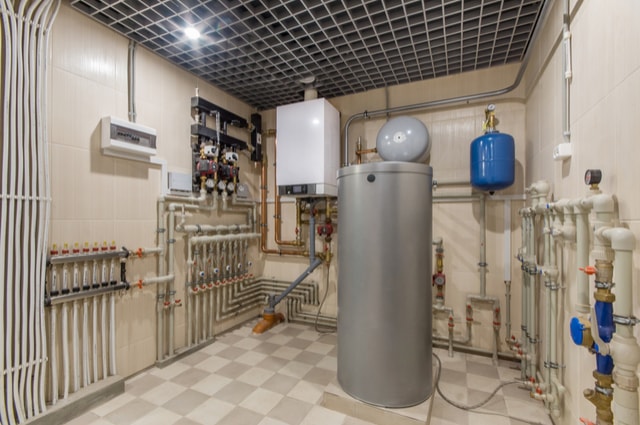 Commercial boiler maintenance: likely entails ensuring the electrical connections are safe, the boiler does not overheat and the boilers are also functioning properly. It also involves there are no hairline fractures in the ceramic retainers and the rods are properly spaced.
There are many benefits that are a result of regularly servicing your commercial boilers. Contacting ST Heating Services Ltd to have your commercial boilers maintained would have many benefits.
There are many benefits that would consequently come along with choosing ST heating Services Ltd to maintain any type of heating system.
Safety Generally: Obviously, safety is the main benefit of consistent maintenance of commercial boilers. Incorrectly fitted boilers that are defective, likely result in serious problems that can affect the health of the person using it. Gas leaks are not common in circumstances where boilers are regularly maintained. However, one issue that is caused by damaged boilers is the production of carbon monoxide, which is a killer gas. The gas is mostly emitted by faulty boilers but can be prevented by scheduled maintenance and the environment from pollution.
Extend boiler life: The many times that you service your boilers reduce chances of breakdowns accordingly prolonging its life. Nearly all types of mechanical gear are subject to wear and tear. By keeping them running smoothly helps it function in a more efficient manner, thus reducing wear and tear and helping it to last longer. This saves you the cost of getting your boiler replaced unexpectedly.
Energy efficiency: Preventive maintenance of commercial boilers is a great way of certifying that they use energy in the most effective manner to avoid high heating bills. Worn out or faulty parts are replaced in order to Improve the efficiency and reduce the consumption of energy.
To stay in line with the law: It is a legal obligation that commercial boilers should be checked annually to ensure safety. Failing to comply with the maintenance check laws result in serious trouble with the law leading to fines. It is then crucial to ensure the boilers go through maintenance checks regularly.
Boiler cover claims: Insurance companies require that commercial boiler installation services have few records that show they undergo frequent scheduled and corrective maintenance. The lack of detailed boiler records may result in not being given a boiler insurance cover.
Having a long experience in repairing and maintaining boilers, ST heating Services offer high-quality services throughout North West of UK. We have a team of highly qualified engineers who are registered by the government, offering customers services at quite affordable rates with quality standards.
Commercial Gas Engineers FAQs