Commercial & Industrial Boiler Replacement
At ST Heating Services Ltd, you can get fast, reliable boiler replacement services for your commercial and industrial boilers. Have you noticed your boiler is making unusual sounds? Does your heating fail unexpectedly or has hot water become unreliable of late? Boiler replacement often pays off for itself, especially if you are interested in reducing your energy bills. At ST Heating Services Ltd. we take pride in being able to build high-quality industrial and commercial boilers to guarantee hot water and quiet heating in your premises.
Our boilers are efficient to a point where they will help you reduce your energy bills by reducing energy consumption by up to 30 percent.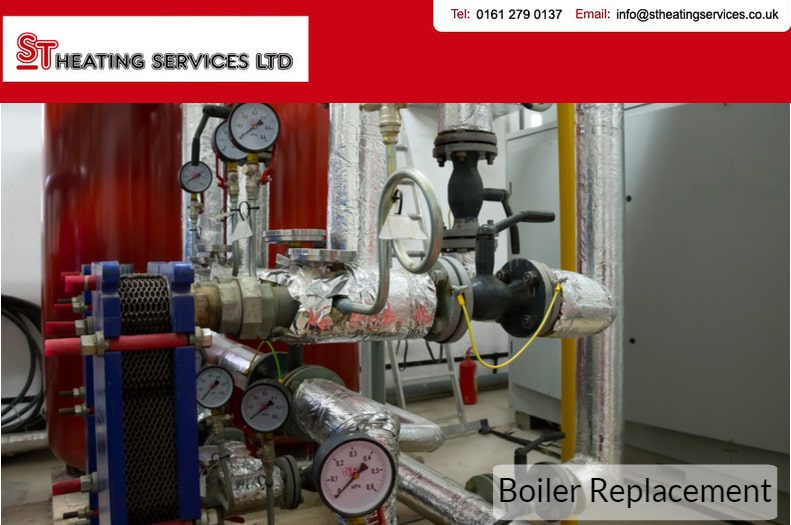 Which Boiler Should You Get for Your Home?

We have different hot water solutions and boilers for different types of Manchester homes. All our boiler replacement options are of the highest quality, design, and performance you can ever want for your living space.
Some of the options we have at our offices include:
Combi Boilers
Combi boilers are best suited for homes in the UK that have a single bathroom. With this kind of boiler, you will find that the hot water will only be generated when you require it. You, therefore, will not need a tank to hold the water.
Their main stand out feature are their compact sizes. It is what makes them great for smaller residences.
System Boilers
We recommend this type of boiler for homes that have several bathrooms. Our engineers have designed the boilers to provide you with an uninterrupted supply of hot water.
It is, therefore, perfect for homes with many occupants, which are likely to have higher hot water needs. The boilers require a cylinder to hold the hot water supply.
Open Vent/ Regular Boilers
They are similar to the system boilers in that they are best-suited for large Manchester homes with many bathrooms. We recommend that you install it in your home or commercial building if there are instances where multiple rooms get to use the hot water at the same time.
A regular boiler from us can be used with a heat pump or solar water heating system.
Why Purchase a Boiler Replacement from ST Heating Services Ltd?

Purchasing a new boiler from us comes with multiple benefits. They include:
It will reduce your energy costs by up to thirty percent
We use the highest manufacturing standards to guarantee a reliable and consistent supply of hot water
Easily controlled using your smartphone
Our boilers are not noisy
ST Heating Services Ltd. supplies industrial and commercial boilers in Manchester and surrounding areas including North West, UK. Call us on 0161 279 0137 or email info@stheatingservices.co.uk for more information on replacing your boiler.