Commercial & Industrial Boiler Replacement
At ST Heating Services Ltd, you can get fast, reliable boiler replacement services for your commercial and industrial boilers. Have you noticed your boiler is making unusual sounds? Does your heating fail unexpectedly or has hot water become unreliable of late? Boiler replacement often pays off for itself, especially if you are interested in reducing your energy bills. At ST Heating Services Ltd. we take pride in being able to build high-quality industrial and commercial boilers to guarantee hot water and quiet heating in your premises.
Our boilers are efficient to a point where they will help you reduce your energy bills by reducing energy consumption by up to 30 percent.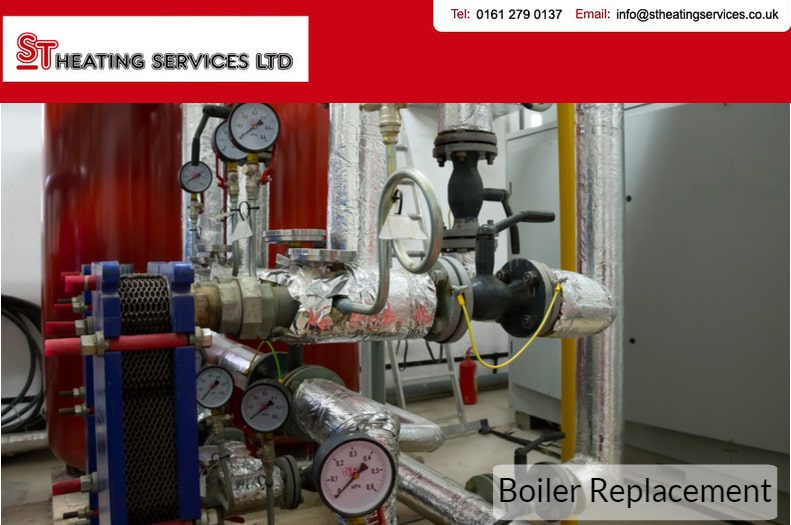 Which Boiler Should You Get for Your Home?

We have different hot water solutions and boilers for different types of Manchester homes. All our boiler replacement options are of the highest quality, design, and performance you can ever want for your living space.
Some of the options we have at our offices include:
Combi Boilers
Combi boilers are best suited for homes in the UK that have a single bathroom. With this kind of boiler, you will find that the hot water will only be generated when you require it. You, therefore, will not need a tank to hold the water.
Their main stand out feature are their compact sizes. It is what makes them great for smaller residences.
System Boilers
We recommend this type of boiler for homes that have several bathrooms. Our engineers have designed the boilers to provide you with an uninterrupted supply of hot water.
It is, therefore, perfect for homes with many occupants, which are likely to have higher hot water needs. The boilers require a cylinder to hold the hot water supply.
Open Vent/ Regular Boilers
They are similar to the system boilers in that they are best-suited for large Manchester homes with many bathrooms. We recommend that you install it in your home or commercial building if there are instances where multiple rooms get to use the hot water at the same time.
A regular boiler from us can be used with a heat pump or solar water heating system.
Why Purchase a Boiler Replacement from ST Heating Services Ltd?

Purchasing a new boiler from us comes with multiple benefits. They include:
It will reduce your energy costs by up to thirty percent
We use the highest manufacturing standards to guarantee a reliable and consistent supply of hot water
Easily controlled using your smartphone
Our boilers are not noisy
ST Heating Services Ltd. supplies industrial and commercial boilers in Manchester and surrounding areas including North West, UK. Call us on 0161 279 0137 or email info@stheatingservices.co.uk for more information on replacing your boiler.
Boiler Replacement FAQs
We at ST Heating Services Ltd., understand that maintaining and replacing your boiler can be a mind-boggling exercise. It is the reason why we have taken the time to gather together the commonly asked questions about central heating and boiler systems. We hope that you will be able to find the answers you seek here.
How long does it take to replace a new boiler?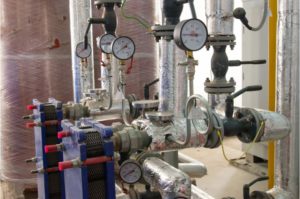 The good news is that any replacement job can be done very quickly. The downside is that the job may end up being shoddily done. As such, it is not possible to provide an accurate timeline for a boiler installation exercise. It normally depends on the boiler we are installing, space configurations, the boiler system that was in place before, and the requirements of your home. Often, a boiler replacement takes one day. But if the boiler we are installing has some additional alterations that are different than the previous boiler, it could take a few more days to complete the installation.
How much should a boiler replacement cost?
Boiler replacement costs will traditionally vary depending on the boiler we are installing. Normally, the costs will vary between £750 for a regular/heat only boiler to around £4,500 for a system boiler. Also, note that the costs may also be affected by whether the boiler is getting moved from one room to another, or whether it will be installed in the same location as the previous boiler.
How much does it cost to register a boiler with gas safe?
Gas Safe registration typically costs £360. When you include the value added tax, the amount becomes £434.40. The gas safe registration is a one-time fee which is intended to cover you for a period of 12 months and includes one registered gas engineer. You will need to pay an additional £152, inclusive of VAT after one year for the certification to get renewed.
Should I replace my boiler?
We recommend that you consider replacing your boiler if it is more than 15 years old. But if you are a smart homeowner, age is not the only factor you should consider when making a decision on whether to replace or not. Be on the lookout for additional signs such as:
Presence of leaks in your residential, commercial, or industrial boiler
If the boilers need frequent repairs and maintenance
You have noticed the presence of black soot and yellow flames
Your energy bills are becoming higher with each passing month
ST Heating Services Ltd. is a registered UK company providing industrial and commercial boiler, heating & plumbing servicing, repair & maintenance in Manchester and throughout the North West, UK. Call us today on 0161 279 0137 for more information on your boiler replacement needs.