The number of years your boiler has served should not be the basic reason why you replace it. Many people tend to make this mistake under the misconception that a boiler should be replaced after a certain amount of years. Maintenance is the key to prolonging your boiler's life span.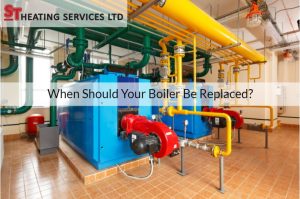 Nevertheless, in some cases, whether the boiler is new or old, the best option is getting a replacement. In this article, we'll discuss a few issues that will help you ascertain if your boiler needs to be replaced. Below are a few boiler issues to look out for.
If you notice unexplained increases in your energy bills, it may be due to your boiler. An inefficient heating system requires a high amount of energy to run.
To confirm the amount of energy your boiler consumes, check its energy label. Rated from A to G with respective colour scales, a green rating consumes the least energy.
Replacing an old, outdated G-rated boiler with an A-rated one will help you save a significant amount of money from energy bills. Are you considering boiler replacement in Manchester? ST Heating Services Limited has just the solution for you. Their services range from boiler replacement, installation repair, among others. They also have their commercial gas engineers. From commercial to industrial boilers, boiler replacement in Manchester is made easier and efficient by this company.
If the problem persists after buying a new boiler, you should consider changing your energy supplier.
Regular Boiler Breakdowns
As much as a boiler breakdown may be normal, it should not be more than once a year. The procedure of calling an engineer to fix your broken broken-down boiler is very uneconomical. Getting a new boiler at this point is a wise move. For a boiler in Manchester ST Heating Services Limited Commercial and Industrial boiler services.
The Boiler Emitting an Odour
A boiler in good working condition should not emit any awful smell. Such a defect needs immediate attention. It could be an indication that the carbon monoxide is leaking. Carbon Monoxide has no noticeable smell, but if there's a leakage, the boiler will not burn properly, causing an odour.
If your boiler the below signs it might be due to a carbon monoxide leak:
A very dark soot on the appliance.
A yellow flame rather than the normal blue flame.
The pilot light blowing out regularly.
Be swift to take action if you see these signs. Carbon Monoxide is a very dangerous gas to human beings. The result of a carbon monoxide leak may be fatal.
These boiler defects and many other minor ones are good reasons to make you replace your boiler.