The choice between old and new boiler for a customer is a personal decision. However, professionals have an in-depth understanding of it, and any assistance rendered my end up, not only saving money in the long run but also creating a trustworthy customer relationship. Boilers are an integral part of normal lives and any disturbance from this norm can create some discomfort. If it happens, consider these factors before you think of either repairing or replacing it altogether.
The years it has been in use
Most electrical products tend to be improved with time, between 5 to 10 years on average, and boilers are no exception. This is done so as to improve their usage (power consumption and efficiency). It also affects the generation of spare parts. So 10 years is the cut-off factor in determining whether to do a boiler repair or replacement. The age of the boiler can be found on the product manual or by going to its website and search by the boiler's model.
The Energy Consumption Rate
This is mostly considered when the operational cost is considered. It is also an age question: the longer the age, the higher the consumption. Boilers installed post-2004 are highly efficient with a high energy rating. The rank of the boiler in energy consumption can be found on the manufacturer's website.
The cost
Cost is also a huge determinant on whether to have your boiler fixed or repaired. While repairing a boiler may be cheaper, getting a new and efficient boiler may save you money in the long run. If it is just a small problem, then a boiler repair will be sufficient. However, if it requires regular repairs, the costs may add up and you may find yourself paying more than if you had considered investing in a new one. Furthermore, you may find it more cost effective to invest in a more modern energy efficient boiler if your boiler is old. The number of resources used to get the boiler back on track is also a factor. The marginal benefit, both in savings and time comes to play. Replacing components like the central heating system can go as far as hundreds of pounds while buying another boiler for a few pounds more could go a long way in solving the problem, and any other problem that seems likely.
The Operability
This factor seeks to find out the number of times the boiler has broken down or caused any other operational setback. A boiler which has been repaired before tends to need more attention compared to a newer one. This directly implies more costs in purchases and service charge.
The condition and age of your boiler will also determine whether to replace or repair it. If it constantly breakdown and it is old, then you may consider investing in a new one. You may also find it costly and hard getting repair parts for an old boiler. New technology has enabled the development of highly efficient boilers. You will also need to consider whether your boiler is reliable or not. If it is constantly causing inconveniences, the investing in a new one is a better option. Even if you have an old boiler that is reliable and does not breakdown frequently, you should take into consideration whether investing in a new one will reduce energy costs.
The number of years your boiler has served should not be the basic reason why you replace it. Many people tend to make this mistake under the misconception that a boiler should be replaced after a certain amount of years. Maintenance is the key to prolonging your boiler's life span. Nevertheless, in some cases, whether the boiler is new or old, the best option is getting a replacement.
Long-Term Benefit
Some customers do not mind changing a boiler as long as it gives them a peace of mind. It saves more on time wasted in waiting for repairs, frequent technological changes and the costs applicable. It might cost more as the face value but makes more sense as a long-term investment.
The choice to do boiler repair or boiler replacement is a cost affair; pitting short-term to long-term remedy. However, for a piece of mind, a customer should choose a method that has a significant marginal difference between cost and utility. Technology is also a factor, lest he or she finds the design obsolete.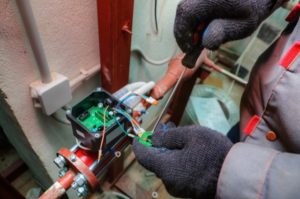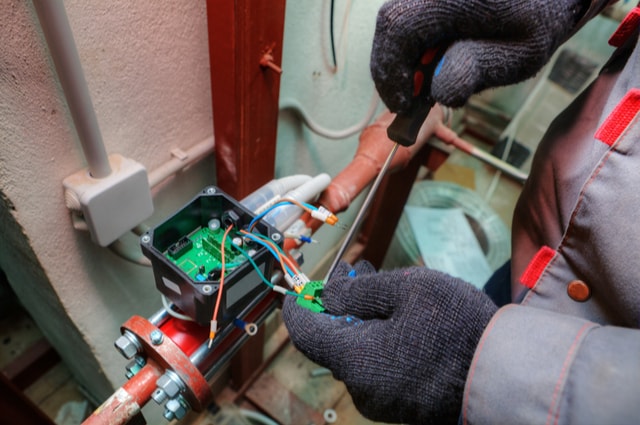 Boiler breakdown can cause a lot of inconveniences, especially when it occurs during cold wintry weather. What is even more stressing is when you do not know whether to consider boiler repair or replacement. There are some situations that will warrant a repair, while at other times, it is cheaper to replace your boiler in the long run. Here we give you some factors to consider when making a decision on the best course of action to take.
Safety First
Safety is the first consideration you should make. If your boiler is old and poses some risks, then the best course of action to take is to replace it. It is highly advisable to seek the advice from a professional to assess the situation of your boiler. Even if an engineer can fix it, it may still be a risk, and if it leaks carbon monoxide, it may endanger you and other occupants of the house. A professional will be able to assess the condition of your boiler and offer you advice on what to do.
Increased Energy Bills
If you notice unexplained increases in your energy bills, it may be due to your boiler. An inefficient heating system requires a high amount of energy to run.
To confirm the amount of energy your boiler consumes, check its energy label. Rated from A to G with respective colour scales, a green rating consumes the least energy.
Replacing an old, outdated G-rated boiler with an A-rated one will help you save a significant amount of money from energy bills. Are you considering boiler replacement in Manchester? ST Heating Services Limited has just the solution for you. Their services range from boiler replacement, installation repair, among others. They also have their commercial gas engineers. From commercial to industrial boilers, boiler replacement in Manchester is made easier and efficient by this company.
If the problem persists after buying a new boiler, you should consider changing your energy supplier.
Regular Boiler Breakdowns
As much as a boiler breakdown may be normal, it should not be more than once a year. The procedure of calling an engineer to fix your broken broken-down boiler is very uneconomical. Getting a new boiler at this point is a wise move. For a commercial and industrial boiler breakdown in Manchester contact ST Heating Services Limited..
The Boiler Emitting an Odour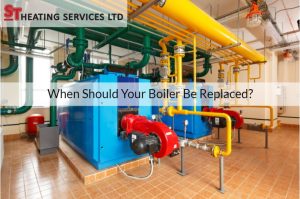 A boiler in good working condition should not emit any awful smell. Such a defect needs immediate attention. It could be an indication that the carbon monoxide is leaking. Carbon Monoxide has no noticeable smell, but if there's a leakage, the boiler will not burn properly, causing an odour.
If your boiler the below signs it might be due to a carbon monoxide leak:
A very dark soot on the appliance.
A yellow flame rather than the normal blue flame.
The pilot light blowing out regularly.
Be swift to take action if you see these signs. Carbon Monoxide is a very dangerous gas to human beings. The result of a carbon monoxide leak may be fatal.
These boiler defects and many other minor ones are good reasons to make you replace your boiler.