Comparing the Heating Engineer and the Plumber
When comparing a plumber to a heating engineer most people would think they are exactly the same but there is a difference. A plumber fits and maintains many areas that include dry or wet piping (the name of 'plumber' comes from the Roman name for lead which was the old form of most piping), and the heating engineer is specifically trained to install and maintain heating systems.
Heating Plumbers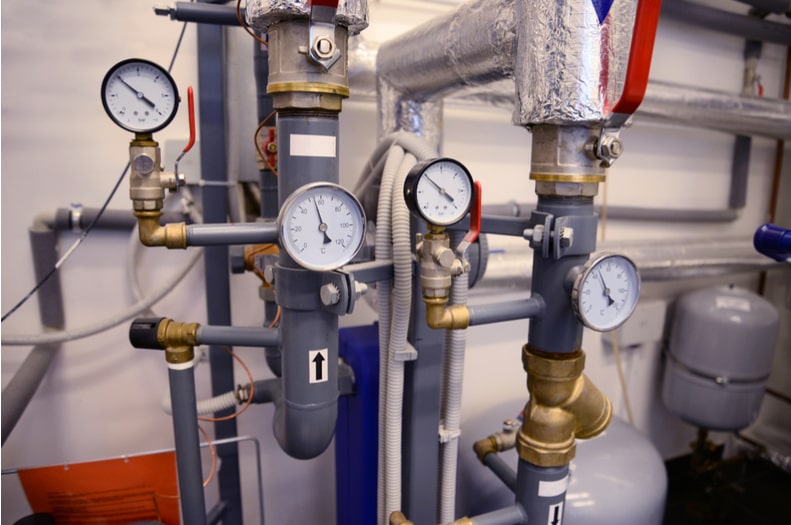 A plumber is skilled with commercial, industrial or residential pipework; fitting bathrooms, showers, sinks, kitchen plumbing, drains and can fit heating systems, radiators and boilers. The plumber can maintain and repair any of these. The plumber needs, by law, to be a trained Corgi engineer and be registered by Gas Safe to fit any gas appliances including boilers.
The role of a commercial plumber is an extremely important one. The role involves the supply, installation and service of a range of industrial machinery in a broad range of industries.
Commercial plumbers may work in a variety of important settings including steam plant maintenance and boiler installation for large industrial buildings as well as highly technical engineering projects. They also commonly look after more routine systems such as plumbing in commercial buildings. The role of a plumber in the commercial sector is highly skilled and they have specialist knowledge and training to carry out their very demanding work. They work on a broad spectrum of projects.
What are the services that a plumber in the commercial sector is able to provide?
It may be that you are a restaurant owner with a blocked pipe that is affecting your business operation. Or, it could be that you are a large industrial organisation with a key piece of equipment that has malfunctioned such as a heating valve on a steam boiler. These are the kind of services that these specialist plumbers can help you with, as well as installations of new equipment. The first step when you require these services is to contact a reputable company to obtain a quote.
Why choose a commercial, specialist plumber over a local plumber?
The services provided by both professionals are quite different and it does involve the need to have different tools. A commercial, specialist plumber has more specialist knowledge than a general domestic plumber and therefore a domestic plumber may not have the correct skill set to solve the problem as effectively and safely. They can also help plan plumbing layouts in large buildings effectively to make sure that the correct pipes and plumbing devices such as boilers are chosen to serve the needs of commercial premises. It is important to also choose a plumber that is listed on the gas safe register.
Choosing a reputable plumber in the commercial sector
It is extremely important to make sure that you choose a reputable plumber with the necessary skills to carry out the job. Commercial, specialist plumbers should meet you in the first instance to look at the job that needs to be done and provide you with a quote for you to evaluate the service. This is an important step and you may not receive a quote up front if you choose a local domestic plumber.
Commercial Gas and Heating Engineer
A commercial gas engineer is similar to the heating engineer and is trained specifically to install, maintain and test heating systems and appliances. The heating engineers can maintain and repair most types of heating systems. They will always be fully trained and accredited by Corgi and be Gas Safe registered, so you know that your gas heating and appliances will be safe when fitted by them.
Dependable Professional Services
At ST Heating Services Ltd, our commercial gas engineers and heating plumbers are all Corgi and Gas Safe registered, and install, repair and maintain boilers and heating systems for a wide range of customers. They work with commercial customers as well as in the industrial sector. Our team also maintain and fit steam boiler systems which include vintage and biomass boilers. Our commercial gas engineers are equipped to maintain, repair and install; commercial and industrial boilers, warm air heaters, oil tanks, catering equipment and all the pipes, pumps and radiators that are in these systems. They are available in Manchester and throughout the North West of the UK.
A Detailed Quote
When you receive a quote for heating and plumbing repair it will be itemised and show details of all the materials and labour required for the job or project. Then you know exactly where your money is being spent. The quotes always reflect value for money. We provide you with the best materials and the most experienced gas engineers to make sure the finished project is value for money, and the product and workmanship are built to last. You can be confident when choosing to use our heating and plumbing services in knowing the work will always be safe and reliable.
Having a plumber on speed dial may be a good idea, especially if your property has a history of water blockages or faulty pipes. However, if you stay around Manchester, then calling ST Heating Services Ltd is your best option since we offer the best plumbing and commercial boiler heating solution.
plumbing servicesAdditionally, there are some dangers attached to trying to handle water-related problems all by yourself. If you lack the necessary training, you might put yourself in harm's way.
Here are five situations where you require calling on a plumber:
Leaky pipes cause damage to property and other possessions you may have. If you experience this type of problem, swiftly switch off the main valve and call a plumber.
The plumber will rush and prevent any further damage from taking place. As a precaution, you should not attempt doing the repairs on your own.
Many reasons may cause a pipe to rupture. They may include age, low-quality pipes, accidental impact and installation by an inexperienced plumber.
Before anything else turn off the main water supply to avoid loss and damage. You must then proceed to call a qualified plumber and they will do the rest.
A plumber will install new pipes and you can rest easy.
Blocked toilets and sinks
Having a blocked sink or toilet can easily ruin your day, causing much inconvenience for yur business. Some sewerage problem often causes the blockage or an object in your pipes, restricting free water flow.
After you notice this sort of problem, rush to call a plumber and they will fix it for you.
Gas leaks are extremely risky and hazardous. That is because they are flammable, and the slightest spark can trigger an explosion. Therefore, whenever you detect gas in the air, rush and shut off the main gas valve and call a certified plumber to rectify the situation.
Occasionally, the tap may produce dribbling water, and a variety of issues may cause that. It might be an object in the pipe, obstructing the free flow of water or maybe the city water supplier is carrying out rations. Either way, it is wise to call a plumber for a correct diagnosis of the problem.
Benefits of choosing ST Heating Services Ltd
If you need plumbing services in Manchester or the larger North West, UK region reach us for the best services. Some benefits of hiring us include:
Fast services – we have plumbers on standby to help you whenever you need us.
Trained experts – all our members of staff are experienced.
Available all around the clock.
Plumbing services in Manchester have never been this accessible. All you need to do is give us a call on 0161 279 0137 and we will fix your problem in the shortest time possible.