Autumn HVAC Maintenance Checklist
Winter is still months away, but as the weather gets cooler, it is important to prepare your heating system for the cold weather. Prepping your heating system in autumn will pay off later when winter sets in.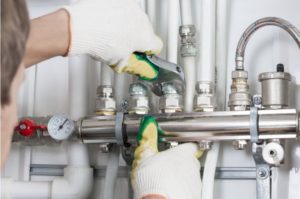 In this post, we'll take a look at things you can do to prepare your heating system for the cold winter months.
Check the Thermostat
It is important to make sure your thermostat is in working condition before winter begins. Clean the inside of the thermostat to remove dirt, dust and nicotine build up. You can use a soft brush to gently brush the interior components.
Additionally, check if the thermostat box is level as a misaligned thermostat can alter the accuracy of internal components.
Clean or Replace Filters
Clean HVAC air filters ensure your furnace system operates efficiently and provide good indoor air quality. If your heating system uses a reusable air filter, consider cleaning it before the winter months set in. Use a vacuum cleaner to suck the dirt and grime out of the filter. If it's extremely dirty, hose it down or gently wash it in warm water. For disposable air filters, be sure to replace them.
Clean Up Debris Around Outdoor Units
Another important thing to do before winter months is to remove any leaves, dirt, sticks, and debris that may have accumulated on or around your outdoor unit. Cleaning up debris allows for maximum airflow, increases the system's performance and increases its lifespan.
Inspect the Control Box Wiring and Connections
Make sure to inspect the control box wiring for damage and loose connections. Damaged and loose wiring can not only cause improper functioning of the unit but also electrical shock and fire.
If you're not sure how to fix damaged or loose wiring, contact one of your local heating contractors. A contractor will inspect the problem and repair/replace damaged cables.
Check the Coil and Cabinet for Leaks
Leaky coils and cabinets affect system performance, energy usage, and occupant comfort. Check the coil and cabinet for holes and leaks. Be sure to seal the holes to prevent air leakage.
Here are other tips to keep your heating system in pristine condition:
Check for odours when your system starts.
Listen for any abnormal noises when your system starts.
Inspect the blades to determine wear and tear.
Check the base for blocked drain openings.
These simple tips will help get your system ready for winter. In addition to these tips, we recommend having your system checked by professional heating contractors twice a year in autumn and spring.
If you're looking for a company that offers maintenance and repair services in Manchester or North West, UK, ST Heating Services Limited is a great option. The company provides high-quality heating services, maintenance, and repairs at competitive rates.