Autumn HVAC Maintenance Checklist
As the heating season comes to an end, it's important to take a few basic steps now in order to ensure your heating system is ready for the winter. Here at ST Heating Services Ltd we have put together a checklist of essential tasks that will help you get through the autumn without any problems.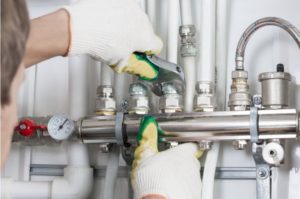 To prepare for the autumn and winter, there are a few tasks you'll want to take care of now. One essential step is preparing your heating system with ST Heating Services Ltd's check list below:
Check the Thermostat
It is important to make sure your thermostat is in working condition before winter begins. Clean the inside of the thermostat to remove dirt, dust and nicotine build up. You can use a soft brush to gently brush the interior components.
Believe it or not, your thermostat is going to be a lot more accurate if the inside of it isn't so gunked up from dirt and dust. Keep yours clean with this easy three-step process: use an alcohol wipe on all interior surfaces; take out its screws by turning them in alternating directions (clockwise then counterclockwise); make sure you have a spare set because they're really small! After that's done, put everything back together.
Additionally, check if the thermostat box is level as a misaligned thermostat can alter the accuracy of internal components. Additionally if there is any doubt about how well your system has been maintained then call in professional heating contractor who will provide advice on what needs doing now so that everything runs smoothly when you turn it back on next year.
Clean HVAC air filters ensure your furnace system operates efficiently and provide good indoor air quality. If your heating system uses a reusable air filter, consider cleaning it before the winter months set in. Use a vacuum cleaner to suck the dirt and grime out of the filter. If it's extremely dirty, hose it down or gently wash it in warm water. For disposable filters, be sure to replace them when necessary so that the heating system is running as efficiently as possible and providing good indoor air quality
Clean Up Debris Around Outdoor Units
When the cold months are coming, it is important to stay on top of your outdoor unit. Another important thing to do before winter months is to remove any leaves, dirt, sticks, and debris that may have accumulated on or around your outdoor unit. Cleaning up debris allows for maximum airflow, increases the system's performance and increases its lifespan.
Tune Up Your Heating System Before Winter Months Hit
Before the winter months set in, it's important to tune-up your heating system . Tune-ups can include changing heating unit filters and checking motor brushes for wear. Doing so will help keep heating systems running efficiently during cold weather.
Lastly, check fuses and circuit breakers to make sure they are all working correctly before the colder months hit! All of these items should be checked throughout the year but if you have any questions about what needs done or how best to get started please don't hesitate to call in.
Inspect the Control Box Wiring and Connections
Make sure to inspect the control box wiring for damage and loose connections. Damaged and loose wiring can not only cause improper functioning of the unit but also electrical shock and fire.
If you're not sure how to fix damaged or loose wiring, contact one of your local heating contractors. A contractor will inspect the problem and repair/replace damaged cables.
Check the Coil and Cabinet for Leaks
Leaky coils and cabinets affect system performance, energy usage, and occupant comfort. Check the coil and cabinet for holes and leaks. Be sure to seal the holes to prevent air leakage.
Here are other tips to keep your heating system in pristine condition:
Check for odours when your system starts.
Listen for any abnormal noises when your system starts.
Inspect the blades to determine wear and tear.
Check the base for blocked drain openings.
These simple tips will help get your system ready for winter. In addition to these tips, we recommend having your system checked by professional heating contractors twice a year in autumn and spring.
If you're looking for a company that offers maintenance and repair services in Manchester or North West, UK, ST Heating Services Limited is a great option. We are a leading company who provide high-quality gas heating services, maintenance, installation and repairs at competitive rates.