Annual Boiler Servicing: What's Involved?
"Prevention is better than cure" is how the saying goes and that's the purpose of annual boiler servicing. It's particularly important that businesses and industrial or commercial premises have their company boilers checked regularly.
ST Heating Services Ltd provides a wide array of plumbing and heating services such as boiler replacement in Manchester and its environs. Have you ever cared to know what is covered during boiler servicing?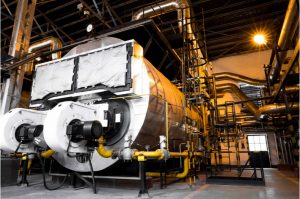 Every boiler regardless of its age requires boiler servicing to keep it functioning safely and efficiently. In addition, to fulfil most boiler manufacturer warranties and ensure that the guarantee is valid, it is a mandatory requirement to service the boilers at least once annually.
Therefore, it is important to obtain boiler servicing and boiler replacement in Manchester and its surrounding areas from experienced boiler servicers such as ST Heating Services.
Everything seems to be working fine, is an annual check-up really necessary?
Individuals and companies have their cars checked out annually at MOTs. You probably have your own annual check-up at the doctor's. The reason is the same: if something needs fixing, it's best to catch it early. If everything is fine, you're set for another year. Then, just as with health and cars, there might be advisories. They will save you from suddenly discovering that something needs replacing or fixing just when that first snap of frost arrives. Check your warranty, too; it might be that an annual service is required if it's to remain valid.
What's on the boiler service list?
All boiler servicing should be done by experienced and suitably qualified registered engineers. All engineers employed by ST Heating Services, whether gas or plumbing specialists, are Gas Safe (Corgi) registered. While they're carrying out your annual checkup, they'll test for any faults that might be affecting the safe and efficient use of your boiler. These will include:
Measuring pressure and gas flow
Checking to see that all seals are intact and functioning
Testing boiler controls and all electrical connections and switches
Checking water and gas pipework for corrosion and leaks
Checking that all safety equipment is working as it should
Making sure that the flue is working properly
A little added extra
That's not all, though. If parts need cleaning, your engineer will be able to do that. Some parts may even need replacing. ST Heating engineers carry an extensive range of spare parts, which means they will probably be able to resolve the problem on the same day without a return visit.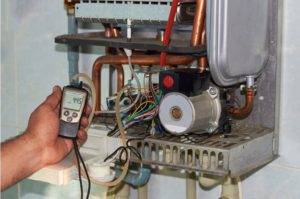 It's about efficiency too
We want to make sure your boiler is working safely, of course, but it doesn't end there. An efficiently running boiler can last longer and save you money. A boiler that's working properly can save you and your employees from hassle. The repercussions from a broken or badly-working boiler can be serious and we're here to make sure you avoid them, every year.
System Pressure Checks
A boiler's working pressure is inspected at three points: the boiler, gas meter, and the inlet burner. The pressure checks are used to find out issues that arise as a result of water mixing with the gas, blockages, and wrong sized pipes. The boiler's expansion vessels are also inspected for pressure, size and condition. The pressure can be refilled if it is insufficient.