The UK is one of the largest boiler markets in the world. Despite its small size, there are more than 26 million boilers installed across the country which is the third-highest number in the world.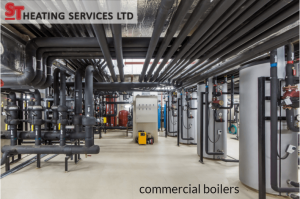 Boilers are some of the most expensive household appliances available and this is particularly true for older, worn-out models. When your central heating system is too old, it wastes a lot of energy and causes higher utility bills. At certain times of the year, older boilers can even cause health problems. They also emit carbon dioxide which has a continuous negative environmental impact.
The EU has released multiple directives in an effort to curtail the carbon footprint of the member countries by 20% in 2020. Given that commercial and domestic boilers are both very prevalent and have a high energy consumption, they have been targeted by many of the most stringent of the new rules.
Regular maintenance is essential for keeping a commercial boiler performing at optimal levels. However, with the new energy standards that have come into effect performance is no longer the only important aspect that should be considered. Failure to comply with these standards can place a business at risk. This means that sometimes the best thing to do is simply opt for commercial boiler replacement. For information on the exact requirements of the energy standards, read on.
What are the Requirements of the Energy Regulations?
The first of these regulations came into effect in 2018 and over the next few years the other rules as set by the Government's Energy Act will come into effect:
Landlords who privately rent out non-domestic properties cannot grant new or renew existing tenancies if they have worse than an E rating on the Energy Performance Certificate (EPC).
From April 2023 properties owners will not be able to let their buildings to new or existing tenants if their Energy Performance Certificate is worse than an E.
The EPC is the rating of how energy-efficient any given property is. It is determined via an energy survey which must be carried out by a Non-Domestic Energy Assessor. All relevant items such as insulation, hot water tanks, commercial boilers and radiators are examined and given a rating ranging from A to G with A being the best. These assessors will also make recommendations on areas where these rating can be improved.
Any property that fails to meet these requirements cannot be let commercially. Given the inefficiencies inherent in older boilers, this is an area that often requires improvement. The easiest way to do this is to opt for a commercial boiler replacement.
Energy Efficiency for Boilers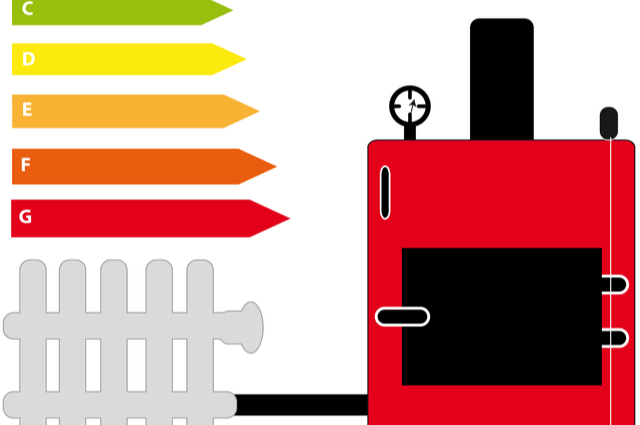 Why an efficient boiler is a better choice?
Boilers are responsible for almost 60% of the energy costs of a household. So lowering your heating bills is the primary reason why an efficient boiler is a better choice. A boiler is considered efficient based on its SEDBUK rate. And the UK government recommends that any boiler installed must have an energy efficiency of 88% or above. But before choosing a boiler, it is important to understand what is the SEDBUK rating and how much you can save with an efficient equipment.
What is the SEDBUK rating?
SEDBUK is an acronym for "Seasonal Efficiency of Domestic Boilers in the UK". This rating measures the energy efficiency of a boiler taking into account its capacity to convert fuel to heat, under conditions such as the UK climate, typical domestic usage patterns, types of boilers and heating controls. The ranking goes from A to G, where highly efficient boilers are given an A rate. The percentage represents the proportion of consumed fuel that a boiler can convert in heat.
A (90% or above)
B (86% – 90%)
C (82% – 86%)
D (78% – 82%)
E (74% – 78%)
F (70% – 74%)
G (below 70%)
How much can you save?
An efficient boiler (A or B rate) produces less CO2 and more heat with the same amount of fuel when compared to low rated ones. Even though the boiler installation requires an initial investment, the economy per year for a product that will last for approximately 15 years makes it worthy. So see below how much you can save on energy bills per year when you replace a low-performance boiler for a highly efficient boiler:
when replacing a D rated boiler you may save up to £110
when replacing an E rated boiler you may save up to £125
when replacing an F rated boiler you may save up to £145
when replacing a G rated boiler you may save up to £210
Get help from experts
Now that you know how important it is to have a highly efficient boiler, this will certainly be one of your criteria when choosing a boiler. But there are many other details such as fuel, boiler types and prices that can fit your budget. As we know, your time is precious and you wish to find a boiler that meets the necessities of your household, so why not get help from the experts of the ST Heating Services? This experienced team of commercial gas engineers can provide you with a variety of high-quality services such as boiler repairs, boiler installation, steam boiler repair, plumbing and system maintenance. We are ready to give you the heating solution you are looking for.