A boiler is an integral aspect of a commercial or industrial property. In the winter, it keeps us warm and offers hot water. Over time, boilers can develop flaws. A faulty boiler is one thing; a dangerous boiler, on the other hand, should be handled with extreme caution. A broken or poorly mounted boiler can pose serious health risks such as fires, carbon monoxide poisoning, and even explosions.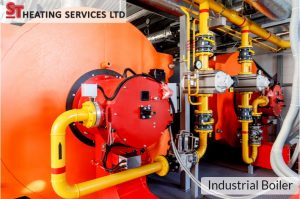 Broken boilers can be lethal, but they will simply stop working in the majority of cases. The majority of modern boilers come with safety measures that include pressure, relief valves, thermostats, oxygen depletion sensors, and overheat stats. In the event that your boiler has a severe problem, it will most likely shut off and stop operating. Assuming your boiler is serviced yearly, there is a low risk of danger. However, there are a few warning signs that your boiler could be dangerous.
Boiler Leakages And Repairs
A leaking boiler is something that should not be taken lightly or ignored. These leaks can lead to the rusting of other components within the boiler. Furthermore, untreated boiler leaks may lead to malfunctioning of some of the electrical components installed within the boiler. The best option is to try as much as possible to the problem immediately to ensure that you prevent more severe damage.
What to watch out for
The odour of gas or fumes: This odour may be emanating from the boiler itself, or it may have spread all over the premises or property. You must turn off your boiler immediately. Additionally, make sure there are not any naked flames anywhere.
Soot, scorching, or black spillage marks visible around the boiler.
A pilot light that keeps going out or a yellow flame is also a serious sign.
If you or anyone nearby are suffering from headaches or feels nauseous, this may be a sign of carbon monoxide poisoning. Turn off your boiler immediately and evacuate the area.
Usual or common boiler faults
The following boiler faults don't require immediate attention. This does not mean they should be left to get worse over time though. Having them taken care of will be less costly than having to fix an entire boiler. These are loss of pressure in your boiler, sticking valves, and overheating or air in the system.
Determining why you have Leaking Boiler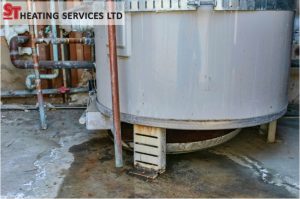 Although identifying boiler leakages can be stressful, there are a few ways you can tell if your boiler is malfunctioning.
The boiler pressure is too high: If it has a leak from its pressure valve, you need to verify if the pressure is too high. Moreover, the pressure relief valves are designed to leak water to act as a safety precaution feature to prevent ruining other appliances.
Check for any pipe corrosion: Boiler leakages can be brought about due to corroded pipes. If the corrosion on the pipes started recently, they can be replaced with ease. If there is widespread corrosion, you may have to replace the whole system.
Fixing Boiler Leakages
There are several quick steps that you can implement to help you attempt to fix your leaking boiler before seeking professional help. The best professional help can be gotten from ST Heating Services Ltd for commercial and industrial boiler heating and plumbing servicing, repair and maintenance not only in Manchester but also across the North West. Before seeking the audience of a boiler technician, you can try any of the following steps first.
Shut off water supply: The best way to do this is by switching off the boiler's internal tap. This prevents water puddle from growing.
You can also turn off the heating: Switch off the heating system to prevent further damage.
Mop up the water: When you realise the water puddle surrounding the boiler, then it shows it has accumulated too much water. You will have to mop it up quickly.
These steps are just temporary measures to take before you seek professional help from ST Heating Services Ltd experts when it comes to boiler repairs.
Advantages of Choosing ST Heating
When consulting ST Heating Services for boiler repairs, it comes with several benefits some of which include:
You get complete assurance of our 24 hours of service availability. This is because problems like boiler leakages usually occur unexpectedly. ST Heating is always available to offer a helping hand at any time of the day.
We are experts at what we do: We hire highly trained engineers and plumbers to perform boiler repairs.
Very punctual: When you make a call requesting for help, the engineers and plumbers will show up at the agreed time.
Whether your boiler is at a crucial stage of repair or not, you need a team of experts who can effectively deal with boiler repairs. ST Heating Services are the trusted experts in commercial boiler repair in Manchester. Faulty boilers can be costly to your business which is why ST Heating offers effective and quick commercial boiler repair services that keep business disruption to a minimum. ST Heating is also on the authorised list of repair contractors for a wide range of associations in the Greater Manchester and the North West, including local government agencies. Our impressive track record has won us a reputation for offering the most exemplary customer support in the heating and plumbing industry. People are happy enough to endorse us because of our reputation for protection and high-quality work as the leaders in boiler repair in Manchester.