Global market insights predict a strong growth curve for the commercial boiler market in the years ahead. In part, the growth has been boosted by the rising adoption of energy-efficient heating systems. Many end-users are now replacing their heating systems with the more efficient condensing units. The other factor driving growth is the advancement in controls and operations, as well as, infrastructural development in the hospitality sector.
Boiler Servicing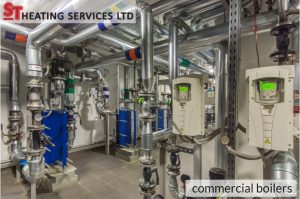 Boiler servicing for the commercial units is a step many people are likely to skimp on. However, neglecting this step can be very expensive, ranging from legal issues, unit damage, operational inefficiency to nuisance breakdowns of commercial boilers. Here is how:
Legal Issues
If you are the owner of your commercial premises, you are legally required to protect the people in it, including your staff and visitors. The boiler must be serviced in line with the guidelines laid out by the manufacturer. Failure to comply could introduce stiff penalties, such as charges of manslaughter and the invalidation of your insurance.
Inefficient Operation
A serviced commercial boiler guarantees a long life and lower cases of breakdowns. Failure to service your boiler according to the guidelines of the manufacturer could lead to the invalidation of your warranty.
Unit Damage
Galvanic corrosion is common in metallic boilers. If not serviced in good time, the corrosion can advance to pitting on the inside, causing your heat exchanger to fail.
Why Choose ST Heating Services?
ST Heating Services Ltd, located in North West, UK carries out thorough commercial servicing in Manchester and the North West area, allowing you to have uninterrupted access to heating. Our professional team of experts performs detailed checks, testing for efficiency and leaving every vulnerable part of your system clean. Here are some of the reasons you should choose us:
We offer expert and friendly advice
The engineer assigned to you carries out ongoing maintenance
Customer care always tailored to individual needs
Comprehensive guarantee on all services
Emergency service team is on call 24/7
Having commercial boilers serviced annually is a practice that can boost efficiency, allow you to spot potential problems and ensure the safety of your premises and the people in it. For all your commercial and industrial heating services, including boiler installation, repair and maintenance in Manchester and the North West, UK, contact ST Heating Services Ltd today.