Gas safety is important. A gas leak is extremely dangerous, causing illness with the added chance of fire or explosions. Hiring a Gas Safe engineer is critical to the maintenance of your commercial or industrial gas system.
What is a "Gas Safe Engineer"?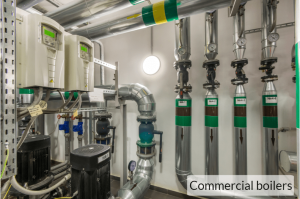 Gas Safe is a certification that an engineer receives upon completing specialist training. It requires the completion of a three-year apprenticeship with a registered company. Remember, always double-check to make sure an engineer is Gas Safe before letting them begin any work. They will carry ID that certifies their gas safety level. Remember, you can find out more about hiring our qualified professional, commercial heating engineers here at ST Heating Services Ltd.
What is a Gas Safety Check?
A gas safety check is when a certified engineer examines your gas appliances to assess that the system is safe and working properly. It involves checking:
That ventilation passages are clear.
That safety devices are working correctly.
That appliances are burning at the correct pressure.
That any harmful gases are transferred properly away from your home.
When Should a Gas Safety Check Occur?
Commercial or industrial premises managers generally undertake annual boiler maintenance to improve the efficiency of their boilers and carry out any remedial work that may be required. The maintenance is often carried out in accordance with the prescribed instructions of the boiler manufacturer. A gas safety check needs to occur once every year. Any landlord needs to ensure that their property is safe for their tenants or for their own use. A Gas Safety Certificate (CP12) needs to be renewed every 12 months by law. If you are renting, always check the lease to ensure that that the certificate is up to date and to find out who is responsible for arranging the inspection.
The best time to arrange a check is during summer. Most people try and do it when they need their heating right before or during winter. Since summer is quieter, some companies will offer reduced prices or other deals.
Legal Requirement
An annual gas safety check is a legal requirement specified under the gas safety regulations for Landlords letting out their properties to third parties. A Homeowner is not legally required to carry out gas safety checks provided the property is not shared with third parties such as lodgers or live-in staff but there is often some confusion, especially in the minds of Landlords who erroneously assume that a maintenance service is adequate to satisfy the legal requirement for annual gas safety checks. This is not so, and while an annual gas safety check is compulsory and required by law, it does not replace the need for adequate boiler maintenance.
Boiler Maintenance Service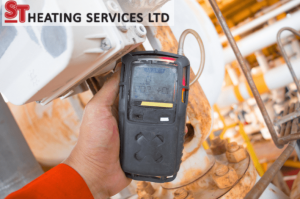 Regular maintenance is the best way to ensure that the boiler continues to function without interruption. A minor damage may eventually lead to a major breakdown if not detected early. A programme comprising of periodic inspections and necessary repairs should be put in place to prevent service interruptions. Where manufacturers' specific instructions are not available, routine maintenance work should at least include the physical inspection of the appliance and pipework to detect any damage. This will be followed by performance tests to ensure that the system is functioning safely. Remedial action should be taken to correct any detected faults.
Only registered gas safe specialists can inspect or repair a gas boiler. It is essential to engage the services of certified practitioners to do the job. ST Heating Services Ltd have a team of professional engineers who have established an excellent reputation for boiler servicing in Manchester area and all over the North West of the UK.
Gas Safety Checks
Gas safety checks should also be carried out by gas safe engineers who will provide the Landlord with a Gas Safety certificate. This record should be made available to current tenants within 28 days of the check. New tenants should normally receive a copy at the time their tenancy commences. It is expedient to carry out a maintenance service at the same time with the gas safety check to ensure cost-effectiveness.
Annual boiler service should be undertaken by a professional maintenance service. Property owners in the North West of the United Kingdom looking for boiler servicing in Manchester area should contact a reputable service such as ST Heating Services Ltd for their industrial and commercial heating requirements.
How Long does the Safety Check Take?
A gas safety check will take up to an hour. This might sound tedious but carbon monoxide is a lethal gas. Any problems will cause it to build up and the resulting health issues will require far more than an hour of time if they are not fatal.
Does the Homeowner Have to be Present?
It is up to each homeowner whether they wish to be present during the gas safety check. If they are familiar with the commercial boiler services offered by a particular company they may feel comfortable leaving it in the hands of the professionals. The certificate can always be left at a pre-arranged place within the home.