Gas safety is important. A gas leak is extremely dangerous, causing illness with the added chance of fire or explosions. Hiring a Gas Safe engineer is critical to the maintenance of your commercial or industrial gas system.
What is a "Gas Safe Engineer"?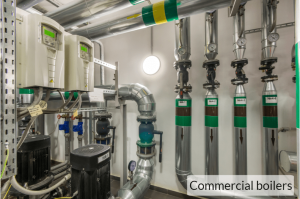 Gas Safe is a certification that an engineer receives upon completing specialist training. It requires the completion of a three-year apprenticeship with a registered company. Remember, always double-check to make sure an engineer is Gas Safe before letting them begin any work. They will carry ID that certifies their gas safety level. Remember, you can find out more about hiring our qualified professional, commercial heating engineers here at ST Heating Services Ltd.
What is a Gas Safety Check?
A gas safety check is when a certified engineer examines your gas appliances to assess that the system is safe and working properly. It involves checking:
That ventilation passages are clear.
That safety devices are working correctly.
That appliances are burning at the correct pressure.
That any harmful gases are transferred properly away from your home.
When Should a Gas Safety Check Occur?
A gas safety check needs to occur once every year. Any landlord needs to ensure that their property is safe for their tenants or for their own use. A Gas Safety Certificate (CP12) needs to be renewed every 12 months by law. If you are renting, always check the lease to ensure that that the certificate is up to date and to find out who is responsible for arranging the inspection.
The best time to arrange a check is during summer. Most people try and do it when they need their heating right before or during winter. Since summer is quieter, some companies will offer reduced prices or other deals.
How Long does the Safety Check Take?
A gas safety check will take up to an hour. This might sound tedious but carbon monoxide is a lethal gas. Any problems will cause it to build up and the resulting health issues will require far more than an hour of time if they are not fatal.
Does the Homeowner Have to be Present?
It is up to each homeowner whether they wish to be present during the gas safety check. If they are familiar with the commercial boiler services offered by a particular company they may feel comfortable leaving it in the hands of the professionals. The certificate can always be left at a pre-arranged place within the home.