If you're a business owner in the UK, then you'll know that commercial gas boilers are essential for keeping your premises warm and comfortable. But when does a gas boiler become commercial? And what are the specific requirements for commercial boilers? In this blog post, we'll answer all of your questions about commercial gas boilers!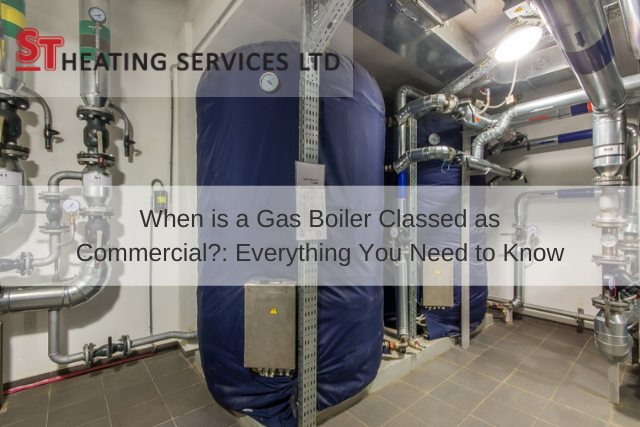 What is a Gas Boiler?
A gas boiler is a device that uses natural gas or propane to heat water, which is then circulated through a network of pipes to provide warmth and hot water to a building. Commercial boilers are larger than domestic boilers, and they're designed to provide heating and hot water for businesses rather than homes.
Although some older residential properties still use gas boilers, they're generally not as common in homes as they once were. This is because most new homes in the UK are built with central heating systems that use a different type of fuel, such as oil or renewable energy and electricity.
However, gas boilers are still widely used in commercial properties, and they have their own specific regulations that must be followed.
Factors that Class Gas Boilers as Commercial
One of the main factors that classify a gas boiler as commercial is the size of the property. If the building is large enough, then it's likely that the boiler will need to be bigger and more powerful to heat it effectively.
Another factor is how many people are using the boiler. A domestic boiler might be able to provide enough hot water and heating for a family of 4 but if you have business premises with multiple employees, you'll need something bigger and more powerful.
The type of business is also important. If the property is used for retail or office space then it's likely to be classed as commercial, whereas a factory or workshop would be considered industrial.
The Boilers Output
All boiler outputs are measured in kilowatts, whether that be a commercial or domestic appliance. The output of a boiler is important as it determines how much heat it can produce and, therefore, how effective it will be at heating your property.
On average, a domestic boiler will use between 15kW and 30kW, but a commercial boiler can use anything from 70kW to over 1000kW.
If you're not sure which output would be best for your business premises, you should speak to a Gas Safe registered engineer who will be able to advise you on the most suitable boiler for your needs.
Installation Process
The commercial boiler installation process is much the same as for a domestic boiler, with a few key differences.
Firstly, the location of the boiler is likely to be different. In most commercial properties, the boiler will be located in a plant room or basement, whereas in a domestic property it's usually found in a kitchen cupboard or airing cupboard.
Secondly, commercial boilers take up a large amount of space and so the installation process is likely to be more complex with more planning required.
And finally, commercial boiler installations usually require a Gas Safe registered engineer, whereas domestic boiler installations can be carried out by a qualified heating engineer.
In Summary
At ST Heating, we are experts in commercial boiler services. We understand the factors that class gas boilers as commercial and what this means for your business. If you're looking for a reliable and experienced team to help with your installation or servicing needs, get in touch with us today. We offer a wide range of services to meet your every need, so you can rest assured that your business is in safe hands.