Boilers have no expiry date; they're meant to last for years. However, you may experience inefficiencies after ten years or more of operation due to wear and tear. Although the issues may be as simple as the heating suddenly stopping and running out of hot water, please do not take them lightly. Call an engineer; they could be dangerous impending problems.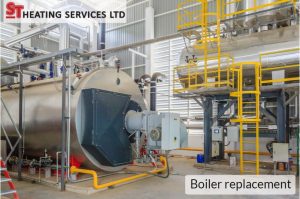 If the issues become frequent, then you're more than likely required to replace your boiler. Below are some of the tell-tale signs indicating that you need a boiler replacement.
Regular breakdowns
Boiler breakdowns should not be more than once a year. If you're constantly topping up the boiler pressure then you're better off with a new boiler. All the money spent on new parts parts replacement is enough to purchase a new reliable and efficient boiler.
Noise
A perfectly functioning boiler has a constant hum that you might not even notice. Any kettling, gurgling and banging sounds from your boiler when heating is not okay. It may be as a result of a broken valve or pump. Turn off the heater immediately and call an expert.
Boiler keeps shutting off
If your boiler keeps switching off, it could be due to a faulty thermostat or low pressure. Consult a specialist to determine the issue; you could either need a part replacement or a boiler upgrade.
Unusual odour
A healthy boiler has no odour; any faint smell indicates leaking of carbon monoxide. Although odourless, once carbon monoxide starts leaking, the boiler does not burn properly, hence the bad smell.
Carbon monoxide gas is dangerous to humans, and the result may be fatal; call a safe gas engineer for inspection. Other signs of carbon monoxide leak include:
Dark soot on the appliance.
Yellow flame instead of the normal blue flame.
Regular blowing out of the pilot light.
High energy bills
Interesting to know, Approximately 35 per cent of heat is lost from a property or building. Upgrading to a high-efficiency boiler will reduce waste and increase efficiency in your property's heating.
Other signs indicating you need a new boiler include:
Radiators taking longer than usual to heat up.
Hard to find replacement parts.
Typically, routine maintenance of a boiler is key to a longer life span. Call our experts for a quick check-up on your boiler and heating systems to save you future big repairs and headaches.
ST Heating Services Ltd has engineers on standby throughout Manchester and North West, UK. This ensures rapid boiler repairs, thus minimised machinery downtime.
Also, ST Heating Services offers complete professional services on all types of gas, oil and dual fuel burner boilers or LPG plumbing in commercial and industrial settings. Better yet, our heating engineers provide quality repairs and installation at highly competitive rates.
No boiler heating or plumbing service is too complex; give us a call on 0161 279 0137.