Any person carrying out work on domestic or commercial gas pipework or appliances must be on the Gas Safe Register by law. This requirement has been put in place to ensure that people and property are kept safe.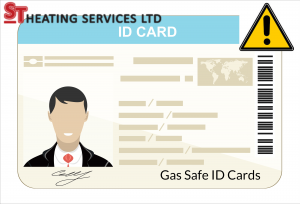 To become Gas Safe registered, an engineer must hold a core set of qualifications as a minimum. Engineers can choose to add to their core qualifications and extend their knowledge, and this enables them to work on more specialised jobs.
What to look for on a Gas Safe ID
Gas Safe registered engineers are provided with an ID card. On the front of the ID card you'll find the engineer's photo, their company, and their Gas Safe licence number and expiry date. On the back of the card are the categories of work the engineer is qualified to complete. When you are selecting an engineer to work for you, it's important that you choose someone trained and qualified to complete the type of job you need. Not everyone with a gas safe ID has been trained to carry out every kind of work.
The Gas Safe ID categories on the back of the card
A commercial gas engineer will have categories listed on the back of their card showing details of the qualifications they hold. The qualifications cover commercial gas work such as non-domestic appliances, gas-fired engines, plant and equipment, commercial pipework, meters and incinerators. Whether the engineer can install, maintain, commission or check the appliance or pipework is also stipulated. The categories shown on the back of the Gas Safe ID prove that the engineer is considered competent to complete this type of work. There are also NG (natural gas) and LPG (liquefied petroleum gas) categories too.
An engineer who is only qualified to work on domestic gas appliances and pipework will have those categories marked on the back of the ID card. Categories include domestic appliances and pipework up to 35mm.
How to find a Commercial Gas Engineer
Check that the engineer and company offer the kind of commercial services you require before giving them the go-ahead. You can double-check their qualifications on the Gas Safe Register website if you're unsure. ST Heating Services can provide commercial boiler heating and plumbing repairs and maintenance, so if you are looking for a highly qualified team of commercial engineers in Manchester, the surrounding area and throughout the North West, get in contact.