Commercial Heating Services
ST Heating Services Ltd are commercial heating engineers in Manchester. Now operating in Swinton and throughout the North West of the UK, we pride ourselves on our team of fully qualified commercial heating engineers who have years of experience in the industry.
Commercial Heating Engineers in Manchester for all your Plumbing and Heating Services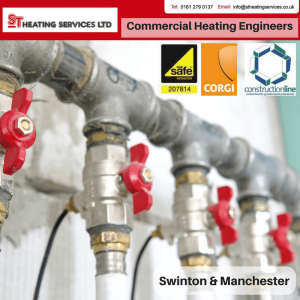 If you are looking for commercial heating services in Manchester, ST Heating can provide high quality solutions. As well as boiler installation and heating systems, we also maintain them. From commercial and industrial boilers and burners to radiators and warm air heaters, we fault find, fix, install or replace any specification of boiler. Whether you need an emergency call out to your warehouse or require further information on LPG for your offices, our dedicated team handle all requests.
Boiler Installation Is Our Speciality
At ST Heating, our speciality is installing boilers. Whatever system you require we can offer a boiler installation service to both domestic and commercial customers. From basic boilers and burners to heating cabinets, commercial catering equipment, piping and radiators, each job is intricately quoted for and provides an itemised list for clarity of how your money will be spent.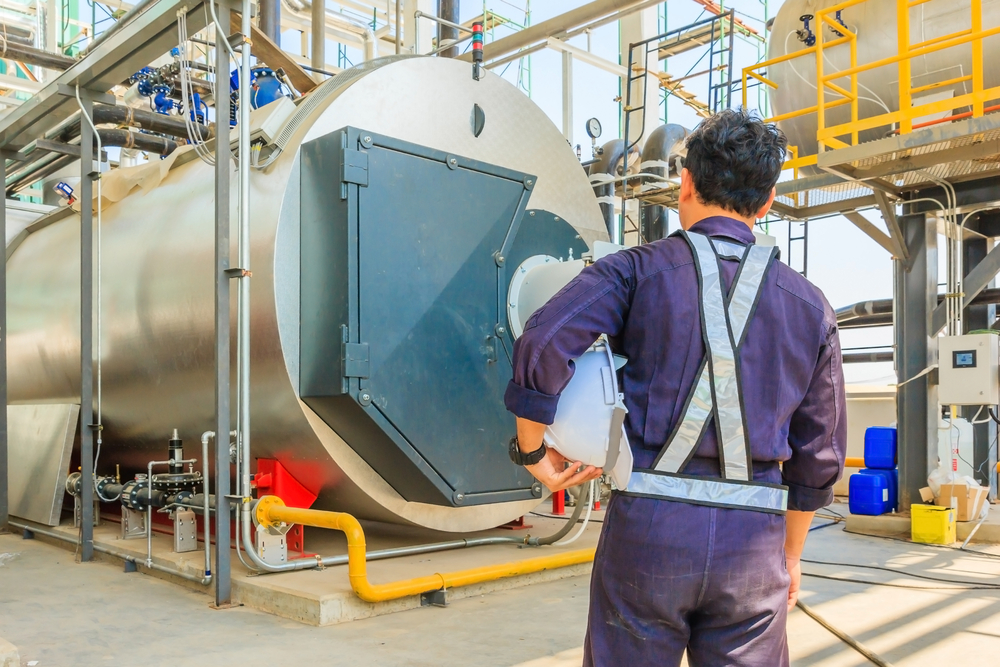 ST Heating Services Provide Ongoing Support
We understand the importance of safety in the home and workplace and therefore make it our number one priority. Our company offer Plumbing and Heating Systems Maintenance Services to all customers. Maintaining such equipment and services not only ensures a safer environment, but also complies with legislation and insurance purposes.
As well as being approved contractors for local businesses, schools and councils, many of our customers choose to return to us time and time again. With competitively priced quotes and work carried out safely to high standards, our reliable and trustworthy commercial heating engineers in Manchester are the experts of this trade. To enquire about our commercial heating services in Manchester, Swinton or throughout the North West, UK please call our plumbing and heating engineers on 0161 279 0137 or email us at info@stheatingservices.co.uk.
Are you looking for commercial heating services in Manchester or the North West, UK? Look no further. We have all your commercial heating solutions. From heating equipment installations to after sale services, we are keen to make sure that our customers are satisfied with the services we offer. With ST Heating Services Ltd, your commercial heating problems will be a thing of the past.
When it comes to keeping your commercial space warm, we understand that this highly affects how the operation of your business is carried out. At ST Heating Services Ltd, we not only install new heating systems but also repair ones that have broken down no matter the brand. We are also only a call away when you need to do that heating system maintenance you have been postponing.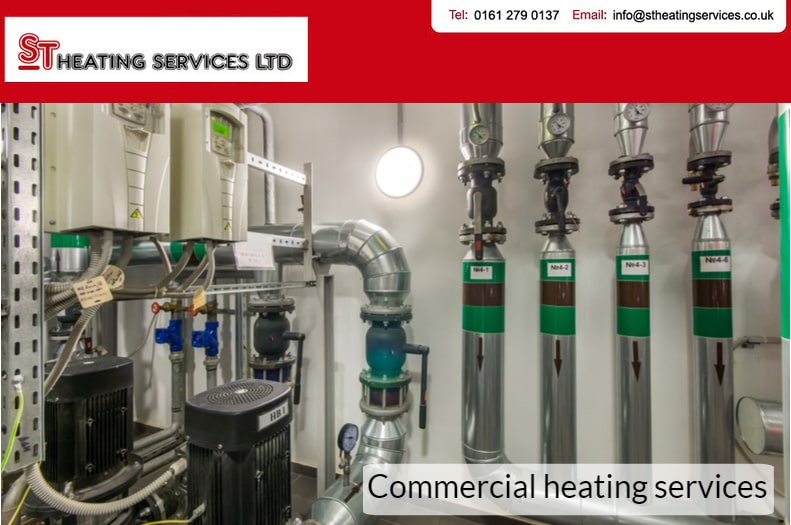 About ST Heating Services

Our team of well-experienced HVAC contractors is well equipped with the knowledge and hands-on experiences to make sure that you not only get the best commercial heating-services but also understand what the process is all about. We are open for consultations and always offer the best recommendations for any business size. We will help you regularly clean your heating equipment, repair it, and get you the best in the market when you need one. All these at a no hidden costs policy.
Advantages Of Hiring Our Commercial Heating Contractor
There are a lot of benefits that come with choosing ST Heating Services Ltd for industrial and commercial boilers, heating and plumbing services, repair and maintenance in Manchester and throughout the North West, UK. First, our team of highly experienced, and registered engineers and plumbers are only a call away and work around the clock to offer high-quality services. Secondly, our rates are very competitive in today's age and time. You will get all the value for every dime you spend.
We offer expert installations, making our work efficient which consequently means minimised downtime. Every time we get a call, our vehicles come fully equipped with all the tools and spares that might be needed for the work so less time is spent moving back and forth our centres. ST Heating Services Ltd is fully recognised by Local North West councils, Government Prison Service, schools, and other highly influential bodies in Manchester and the North West, UK. This proves that our work is of high standards which is a reputation that we aim to maintain.