Businesses have a fairly wide choice when it comes to commercial boilers and it can be hard to choose between them. Many will be guided by the cost yet, while an important consideration, this shouldn't fully persuade you to buy a cheaper model to save on your budget as this can lead to a false economy.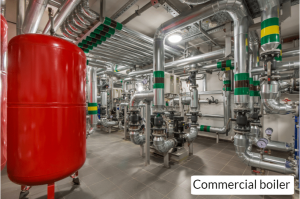 So, what are the most important considerations to bear in mind?
A good energy efficiency rating
Thanks to the Energy Labelling Directive (ErP), choosing an energy-efficient boiler is pretty easy. The information accompanying all commercial boilers these days means that assessing performance versus energy efficiency is clear, with technical documentation readily available.
By assessing a boiler's expected energy consumption over time means predicting its carbon emissions. This is key in an age where climate change is a top consideration.
Life cycle costs
Commercial boiler manufacturers can provide life cycle cost models for any business that's looking for a boiler replacement. These will include:
The initial costs of purchase,
The costs of installation
Running costs, depending on fuel prices,
Anticipated maintenance and servicing costs.
Installation and maintenance
The costs of fitting a replacement boiler can vary, depending on the make, model and how easy it is to fit. Annual or more frequent servicing and maintenance/spare parts costs can also vary. To get a better idea according to the model in mind, contact us to speak to one of our technicians.
Warranty period
The type of warranty accompanying a commercial boiler is an important consideration. A longer warranty gives peace of mind and taking advantage of this plus the commissioning services of your commercial heating engineer means your boiler will be set up according to the recommended procedures right from the start.
Ongoing support
Ongoing technical support is vital through the manufacturer and also the team of your commercial heating company. We have highly trained and skilled engineers to offer support, troubleshooting and repairs, if necessary.
Water treatment
The water in a commercial heating system needs chemical treatment at regular intervals for optimum performance and as part of an ongoing maintenance schedule. Once again, leave this to us, the professionals.
So, there's no need to feel overwhelmed when choosing a boiler replacement. We're on hand to give you help and advice every step of the way.