Boilers rarely require repairs, which is why having a damaged boiler can be quite frustrating. This is especially so because making arrangements to have a boiler repaired can be stressful, aggravating and costly.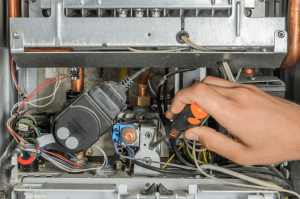 Having a boiler repair cover plan can help you be at ease knowing that your boiler is covered should the worse happen. The plan covers any emergency boiler repair and related costs. Fortunately, with a boiler repair cover plan, you can get in touch with an engineer at any time at an affordable fee.
Cover Plan Explained For Getting Your Boiler Repaired
A boiler repair cover plan is a form of home insurance that you take to cover any emergency boiler repair costs likely to be incurred in the future. Just like any other insurance cover, a boiler repair plan requires you to pay an annual or monthly fee known as the premium. This premium covers all costs incurred in having a professional engineer check, maintain, or repair your boiler in case of possible damages.
There are two basic boiler cover plans, including a cover on the boiler and controls and a cover on the entire heating system. Some insurances also allow for coverage of other components such as electrics, drains, and plumbing. One of the key reasons why you should consider a boiler repair plan is that insurance covers are cheaper compared to the unexpected expenses that come with emergency repairs.
Things to Look Out for When Choosing a Boiler Repair Plan
Boiler repair plans should not always be procured from the energy company that supplies power to your home. It is necessary to evaluate a variety of options to ensure that you get the best plan. Here are some things to consider when buying a boiler repair cover plan.
Coverage of Multiple Issues
A basic plan will cover your boiler and other controls, such as clocks, thermostats, programmers, and timers. It is, however, essential to check out for coverage of these components and other multiple issues, including labour and parts.
This includes having your boiler regularly inspected for compliance with the manufacturer's instructions, safety checks, and functionality.
Checking out for ratings from customers and rating agencies goes a long way in helping you choose the best plan. Reviews will also assist you in identifying hidden costs and claim limits.
Eligibility to Boiler Repair Coverage
Essentially, all landlords and landowners are eligible for a boiler repair cover plan. This is on the condition that the boiler is not covered in other home insurances. You should, however, check on the age of your boiler before procuring the insurance cover. Most companies will not cover boilers exceeding a certain age.
ST Heating Services, Your Ideal Insurer
ST Heating Services Ltd is a reputable company in offering quality services around the maintenance and repair of boilers. By choosing us, you are guaranteed of functional boiler throughout the year. Our expert engineers will be dispatched to your home immediately you request an emergency repair. Get in touch with us for more information. We offer quality services in Manchester and throughout the North West, UK.