Boiler Installation Manchester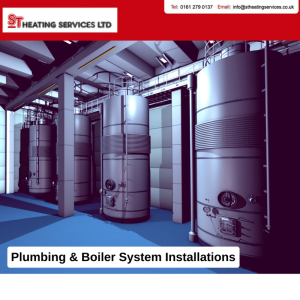 ST Heating Services Ltd specialise in boiler installation services in Manchester, offering a wide range of heating and plumbing services in both Manchester and Swinton, taking pride in every job that we do. We offer boiler repairs for all plumbing and heating systems but we also offer a boiler installation service.
We can install any number of systems and items including boilers, burners, warm air heaters, commercial and industrial boilers and heaters, oil tanks, heating cabinets, commercial catering equipment, pumps, piping and radiators. We offer the best and most comprehensive boiler installation services for both domestic and commercial customers.
Look no further for boiler installation in Manchester!
We know that looking for a heating expert or plumber in Manchester can be difficult which is why we are sure to reassure you that you are doing the right thing in choosing ST Heating Services. All of our plumbing, heating and boiler installation quotes are itemised and complete so that you can see exactly what your money is going towards.
Our quotes are always competitive but they also reflect value for money. We use the best quality materials that are built to last the test of time and the most experienced and qualified plumbers and heating specialists in Manchester. This gives you a better quality service that will stay fault free for longer, giving you peace of mind in your heating and/or plumbing system. To find out more information about our boiler repairs in Manchester or Swinton as well as plumbing system installations, please call 0161 279 0137 or email us at info@stheatingservices.co.uk.
Gas & Central Heating Installation For Commercial Sectors
If you are looking for gas central heating and boiler installation services then you're in good hands with ST Heating Services. We are on the approved list of installers for the NHS North West Division, North West Government Prison Service, RFCA, TA North West & The Isle Of Man, Local North West Councils, schools, small and large businesses and local government departments in Greater Manchester and the North West regions.
Our plumbing work speaks for itself in terms of safety and quality which is why so many people are happy to approve and endorse us. We have a great track record for a high standard of work and craftsmanship.
We also have a reputation for great customer service. We are coming to your home or place of business and we make sure that you feel comfortable with us being there by being polite and respectful at all times. We are professional and punctual and are happy to explain what we are doing and how it will work as we go.
If you need a heating specialist or plumber in Swinton or Manchester for any part of your heating or plumbing system installation, whether that's at home or on your business premises, please do get in touch. We would be happy to explain the range of services we offer and provide you with a competitive quote based on the best quality materials and workmanship. Please call our plumbing and heating experts on 0161 279 0137 or get in touch by email at info@stheatingservices.co.uk with any queries.