The commercial sector has always been one of the most demanding when it comes to plumbing, and this is even more so with new commercial premises.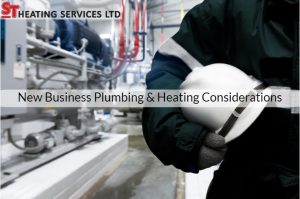 The commercial sector often takes advantage of a company's downtime, so all commercial plumbing systems need to be able to handle the load – especially for offices where computers and other equipment are constantly running. With such high demand on commercial plumbers in recent years, we have seen many new business owners make mistakes that could cost them dearly later on. In this blog post, we will discuss some considerations before opening your own office or commercial premises that can help you avoid costly mistakes down the line!
A commercial plumbing system is designed to handle a higher demand for water than residential and new commercial plumbers are likely to be used more often. It's important that the commercial space has enough room for pipes so they can distribute heat around the office without being overcrowded or bursting – you don't want your whole building flooded!
Commercial Heating
The size of commercial premises will dictate how much heating it needs in order to make sure all occupants feel comfortable at their desk throughout winter. For example, if an office employs 20 people with each person having a 500 square foot area allocated then there would need to be 1000 sq. ft. per occupant (with no natural light) meaning an HVAC unit on average sized units should suffice. However, larger spaces may need commercial HVAC units to provide enough heat throughout the office.
Commercial Plumbing
You can also consider commercial plumbing systems in commercial buildings for washing facilities, toilets and kitchens which are all necessary parts of an office building.
Commercial plumbers will be able to advise on what system would best suit your needs when considering commercial heating or pipes!
Pipes need to be big enough so they don't burst – you wouldn't want a flood inside your commercial premises! A commercial property size dictates how much heating it requires (depending if there is natural light). Installing commercial gas piping ensures that any work done by plumbers won't have broken water lines. Commercial plumbers should always check before installing gas pipes along with checking for potential leaks near the area where the commercial plumbing system is installed.
Commercial properties need to have a good temperature range so it doesn't get too hot, but also not too cold – commercial property owners can find out what's best for their needs by contacting commercial plumbers!
If you're looking at opening up new commercial premises then you'll want to think about your building requirements in terms of heating and plumbing as this will end up impacting on how much work you have to do when taking over the premises; it may be worth speaking with commercial plumbers if unsure! You don't want any flooding or unexpected leaks in the building. Plus, commercial plumbing systems can be complex so you'll need to make sure the information is up-to-date.
Commercial properties are often difficult because they have an unpredictable schedule for when people will be arriving and leaving – our commercial plumbers are happy to help with this!
If you are looking to open up a new business and want more advice not already covered in this post then call us at ST Heating on  0161 279 0137 or email info@stheatingservices.co.uk.