When industrial or commercial boilers suddenly suffer a breakdown, the disruption, loss of earnings and safety concerns can seriously impact on a business. Finding a reputable company to carry out an emergency boiler repair is an urgent priority but when the crisis is over, several measures can be implemented to prevent the incident recurring and even help extend the working life of the boiler.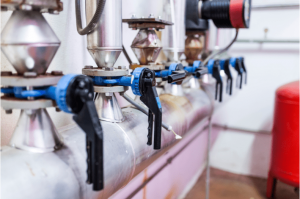 Regular Observation
Business owners should spare a few minutes each week to ensure the area where an industrial boiler is situated is kept tidy. Apart from being a fire hazard, accumulated debris such as broken machinery or packaging can cause a serious breakdown through the boiler overheating if ventilation panels become blocked. There is also the silent peril of toxic fumes such as carbon monoxide. Check that large dustbins are stored well away from external vents. Frozen pipes are a major cause of boiler breakdown so arrange for pipes to be insulated to guard against the winter weather.
Warning Signs
Make it a regular routine to check for deposits of fine black soot, water seepage amongst the pipework or inexplicable noises within the boiler. Radiators might appear warm, but check that the heat has an even distribution. If the lower half is cold yet the upper area is hot it indicates the system has accumulated trapped air. Regular bleeding or releasing of air contributes to the efficiency and economy of the boiler. The flame of the pilot light is a reliable indicator of a boiler's general health. It should be blue in colour and burning in a steady manner. If the flame wavers uncontrollably and is tinged with yellow, orange or red, the boiler needs professional attention.
Preventing Repairs
The most cost-effective way to prevent emergency boiler repair is to opt for an annual service. It's an opportunity for pressure gauges to be adjusted to maintain a high rate of efficiency. Signs of wear and tear such as inefficient fans or pumps can be replaced before they deteriorate enough to cause a breakdown. The highly experienced Gas Safe engineers of ST Heating Services Ltd have an excellent reputation for the maintenance and emergency repair of boilers in the north west of England. Their professional service includes itemised quotes at competitive rates and covers all types of boilers and heating systems.