We've just come through a cold winter and it's not over yet. In fact, 2019 is forecasted to be our coldest year on record. That should make us think about the precautions we must take.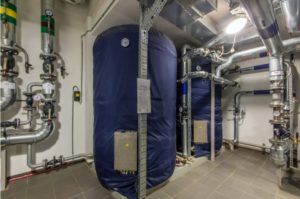 We should protect ourselves from the cold. Failing to do that will have dire consequences for our health and well-being. Here in the UK, we need our boilers all year round. They're our biggest ally in the battle against cold. For heating homes and business premises, there's nothing better than a good, British boiler.
Commercial Boiler Servicing in Manchester
For commercial boiler servicing in Manchester, call ST Heating Services Ltd. This company of heating engineers is dedicated to servicing commercial boilers in Manchester and the north west of the UK. We can keep your boiler working through the cold spell and beyond. The main advice we give our valued clients is to have your commercial boiler serviced regularly. People sometimes imagine they can save expense by skipping boiler servicing every year.
However, we at ST Heating Services advise against that. Regular servicing of your boiler will keep it in top condition, keep you safe and even save you money. Here's how.
Reasons for Regularly Servicing Commercial Boilers
Why should we have our commercial boilers serviced regularly? There are three reasons.
Freedom from Tension: When your commercial boiler is serviced regularly, the chances of it breaking down during an emergency period is lessened. A cold spell can be difficult to manage. It's great to have that reassurance that your boiler servicing is up-to-date. That's one less problem for you deal with.
Safety of your Building: There are so many dangers all around. There are dangers attached to boilers which are not serviced regularly. Boiler breakdowns and carbon monoxide leakages are a danger to health and safety. If you get yours serviced regularly, you'll have the reassurance of knowing that your business premises is safe and your workers and customers won't face difficulties because of unsafe conditions.
Cost Efficiency: It's known that boilers which are serviced regularly work more efficiently. That saves you money in the long run. Isn't that worth considering?
Call ST Heating Services Now ON 0161 279 0137 or email info@stheatingservices.co.uk.
For commercial boiler servicing in Manchester, give ST Heating Services a call now. A locally-based company with experience and expertise, we understand your needs and will give you the best servicing deal. So don't delay, call ST Heating today.