Commercial boilers are systems that heat water that is used for warming buildings. In most cases, they use natural gas as fuel; others may use electricity resistant coils or burn fuel oil. The boiler has electric coils or burners that generate energy that heats the water via a heat exchanger. Depending on the heating process, the boiler will produce hot water or steam. This hot water or steam circulates to the entire building through pipes entering radiators or other appliances that help to disperse the heat in the building. This helps in keeping your indoor environment comfortable.
What is the Ideal Size of a Commercial Boiler?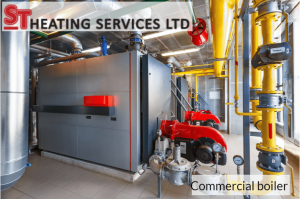 The boiler size is measured in kilowatts. Domestic boilers are up to 70kw net while those above 70kw are regarded as commercial. These boilers are suitable for heating large commercial buildings. A commercial boiler should have gas pipework of more than 35mm in diameter to ensure it runs smoothly. When choosing a boiler for your property, it is essential to consider your heating needs and boiler capability. If it is too small for your heating requirements, it will overwork, thus limiting its durability. On the other side, if it is too big for your building, it will increase your running costs, including the fuel bills. That is why you should consider the input of a professional commercial boiler installation company.
How Efficient is a Commercial Boiler?
If your boiler is running efficiently, it will save you money in the long run since your heating bills will be lowered. You will also avoid regular repairs and ensure the regular and consistent temperature in your property. A well maintained commercial boiler can service you for 10-15 years without the need for replacement.
Commercial Boiler Installation Services
If you live in Manchester or the broader North West UK region, you can rely on high-quality commercial boiler installation, servicing and repair services of ST Heating Services. We have qualified commercial gas engineers registered with Gas Safe. They have the knowledge and expertise to ensure that your boiler works efficiently. They will also advise you on the type of boiler ideal for your needs. The company has extensive experience in the installation and repair of boilers in the region. It features on the list of contractors for government, local government, businesses, and companies in the area.
You can contact ST Heating Services on 0161 279 0137 or by email to info@stheatingservices.co.uk for a quote if you want a commercial boiler to be installed in your factory, warehouse, supermarket, school, garage sports hall, church, retail outlet, workshop and leisure centre.