Commercial boiler replacement inevitably leads to disruption within a business. The completion time depends on the type of installation and any additional requirements.
Same Type and Location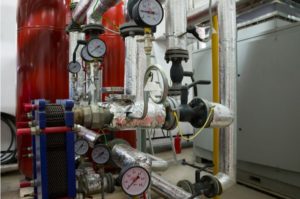 A commercial boiler replacement that involves fitting a unit which uses the same system and is to be installed in the exact location of the old one is the simplest. However, if the existing pipework is not compatible with the replacement boiler an extra time allowance will be needed.
Time: One day plus an extra half if pipework needs correction.
Same Type fitted elsewhere
Deciding on a different site for a replacement boiler means a lengthier job. The gas supply to the original boiler will need to be capped and new pipes have to be installed to accommodate the new boiler. Additional pipework may be required to connect radiators to the new location.
Time: one-and-a-half to two days. There may be a slight increase in time and cost depending on the extent of additional pipework.
Different Type of Boiler
If an alternative type of boiler is to be installed it is referred to as a system upgrade. The time required increases due to whether the new boiler has a cylinder or not. The engineer will have to either remove or fit one accordingly. New pipework will probably be needed to integrate with the central heating network.
Time: Two-and-a-half to three-and-a-half days although this can vary slightly depending on the required amount of corrective pipework.
Additional Flushing
During installation metallic debris will accidentally enter the heating system and it must be flushed out sufficiently to ensure there is optimum operating capability. This can be done by either a hot chemical flush with magnetic filter or a power flush which is an improved technique but can cause leaks in old systems.
Time: one to two hours; eight hours or one day
Upgraded Gas Supply
Many old systems have 15mm pipes but Gas Safe Regulations require diameters to be between 22mm and 35mm depending on length.
Time: Hours or days depending on the scale of the job.
ST Heating Systems offer reliable, high-quality workmanship for commercial boiler replacement at cost-effective rates, serving all types of businesses in Manchester and the north west of England.