Having a plumber on speed dial may be a good idea, especially if your house has a history of water blockages or faulty pipes. However, if you stay around Manchester, then calling ST Heating Services Ltd is your best option since we offer the best plumbing and commercial boiler heating solution.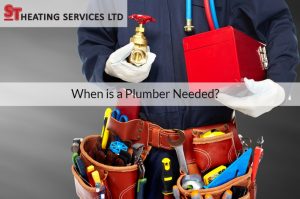 Additionally, there are some dangers attached to trying to handle water-related problems all by yourself. If you lack the necessary training, you might put yourself in harm's way.
Here are five situations where you require calling on a plumber:
Leaky pipes cause damage to property and other possessions you may have. If you experience this type of problem, swiftly switch off the main valve and call a plumber.
The plumber will rush and prevent any further damage from taking place. As a precaution, you should not attempt doing the repairs on your own.
Many reasons may cause a pipe to rupture. They may include age, low-quality pipes, accidental impact and installation by an inexperienced plumber.
Before anything else turn off the main water supply to avoid loss and damage. You must then proceed to call a qualified plumber and they will do the rest.
We will install new pipes and you can rest easy.
Blocked toilets and sinks
Having a blocked sink or toilet can easily ruin your day. Some sewerage problem often causes the blockage or an object in your pipes, restricting free water flow.
After you notice this sort of problem, rush to call a plumber and they will fix it for you.
Gas leaks are extremely risky and hazardous. That is because they are flammable, and the slightest spark can trigger an explosion. Therefore, whenever you detect gas in the air, rush and shut off the main gas valve and call a certified plumber to rectify the situation.
Occasionally, the tap may produce dribbling water, and a variety of issues may cause that. It might be an object in the pipe, obstructing the free flow of water or maybe the city water supplier is carrying out rations. Either way, it is wise to call a plumber for a correct diagnosis of the problem.
Benefits of choosing ST Heating Services Ltd
If you need plumbing services in Manchester or the larger North West, UK region reach us for the best services. Some benefits of hiring us include:
Fast services – we have plumbers on standby to help you whenever you need us.
Trained experts – all our members of staff are experienced.
Available all around the clock.
Plumbing services in Manchester have never been this accessible. All you need to do is give us a call, and we will fix your problem in the shortest time possible.