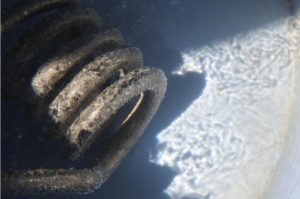 What are Immersion Heaters?
Immersion heaters are devices used to heat and maintain the temperature of liquids and gasses such as water, oil, highly viscous liquids and hazardous chemicals. Some of the common applications of immersion heaters include oil tanks, water tanks, diesel tanks, fuel-oil tanks, vaporising vessels and antifreeze protection on refuelling water storage tanks, to name a few.
Types of Immersion Heaters
Flanged heaters
Flanged heaters are the most commonly used portable industrial heaters. They are designed to be mounted in tanks and pressurised vessels. This type of immersion heater is used for heating gases like vapours and steam and liquids such as oil, water, corrosive solutions and heat transfer fluids.
Most flanged heaters are made using bent tubular elements made from titanium, steel, copper, Incoloy or Inconel sheathed elements.
Screw plug heaters
These types of immersion heaters are designed to be fully immersed in liquid for rapid heat transfer and quick heat up times.
Screw plug heaters are comprised of tubular elements that are welded in a machined pipe thread fitting. The fitting is screwed directly at the side of the tank or the vessel.
Circulation heaters
Circulation heaters, also known as inline heaters, are designed to heat flowing liquids and gases. Unlike other types of immersion heaters, the inline heaters are exclusively used in tanks or vessels filled with oil or other vicious contents.
Over-the-side immersion heaters
These types of heaters are designed for use in applications where other immersion heaters cannot be conveniently installed. Over-the-side heaters are installed in the top of the tank or vessel with the heated part directly immersed at the bottom or along the side.
Benefits of Immersion Heaters
The use of immersion heaters in both residential and commercial applications has grown steadily over the past few decades due to their many benefits. Some of these include:
Ease of installation and maintenance
Energy efficiency immersion heaters are designed to heat liquids in an energy efficient manner. Consequently, this helps to reduce energy costs.
Moisture, corrosion, and explosion-resistant – immersion heaters are sealed with elements that are resistant to moisture, corrosion and are explosion proof.
Problems Associated with Using Immersion Heaters
One of the main problems of using immersion heaters is that the user has to heat the whole tank or vessel even when they only need a small amount of heated liquid. This does only mean that the user has to wait for long periods for the liquid to heat up but also uses unnecessary electricity.
Overall, immersion heaters are a great choice for both residential and industrial heating applications.
If you're searching for experts to repair your immersion heater, look no further than here at ST Heating Services Limited. We offer boiler repair and maintenance services for a variety of heating systems at competitive prices. It's worth mentioning that the company offers boiler servicing in Manchester, and throughout the North West, UK.