Professional Industrial Heating System Maintenance in Manchester and Surrounding Areas
Heating System Maintenance
If you are a facility manager looking to heat an ample space such as a warehouse or factory, you will understand that industrial heaters require adequate maintenance. Preventive maintenance of heating systems like boilers are necessary to ensure safety and efficiency. It reduces energy and water use and also prevents the heating systems from unforeseen malfunction.
Regular Servicing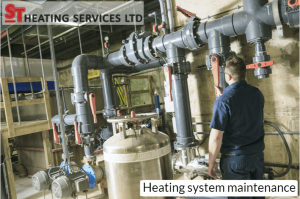 Plumbing and heating systems need regular maintenance. Proper maintenance is essential for the safety of the building itself and the people in the building. For instance, items like gas and electricity can be fatal if not looked after. Boilers and pipes should be checked regularly for possible leakage. Legislation require regular checks and maintenance, and to avoid violating the law, a qualified heating expert must ensure all types of equipment are running safely. Insurances also insist on the regular maintenance of systems such as boilers and heaters for the insurance to be valid failure to observe that, the cover might not compensate in case of a problem.
Maintenance Plan
There are various factors to consider when choosing an industrial heating system maintenance plan. They include:
Any maintenance will have a fee. One must acknowledge the benefits that regular maintenance provides. Preventing breakdowns means no wasted time through worker downtime while waiting for repair. Less water and energy will save money too.
There are techniques used to diagnose industrial heating systems' performance, thus increasing efficiency. For example, the installation of flow meters will help detect leakages. Such diagnostics checks are easy to implement and can optimise recovery.
Different systems operate differently. It's essential to understand the various items and how they function to check their full functionality. Having a maintenance plan for specific equipment can help in timely replacements before further detrimental effects.
Full Range of Service and Repair
One thing about the breakdown of heating systems is that it tends to happen at the most uncomfortable periods, a time when they are most needed. Preventive maintenance is crucial to keep systems in top working condition. ST Heating Services Ltd provides complete support to industrial and commercial heating systems, plumbing, repair, and maintenance services in Manchester and surrounding areas of North West, UK. They offer maintenance services for everything from small commercial boilers to sizeable industrial heating systems. They have experience of most types of commercial premises from warehouses to factories.