Boiler installation in Manchester and the North-West. How long does it take?
We are the industry leaders in boiler installation in Manchester and the North-West.
At ST Heating Services Ltd., our experienced heating engineers are the experts for boiler installation in Manchester and throughout the North-West UK. Fully trained to the highest standards, our engineers are Gas Safe (Corgi) registered. Therefore, whether you require a new boiler or a replacement one, St Heating Services Ltd. have the expertise to install a boiler with minimum disruption to your business. Furthermore, once our expert engineers have installed your boiler, our maintenance service keeps it running at optimal efficiency, saving you money.
How long does it take to install a boiler?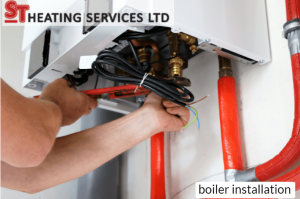 The following points will determine how long it will take to install your industrial or commercial boiler.
If you are planning to replace an existing combi-boiler with an equivalent in the same location in your property
A replacement boiler installed in a new position within your property.
If your pipes and radiators need replacing to suit the new boiler, you are having installed.
With these points taken into consideration, our engineers will then accurately estimate and give you a timeline for installation works. This estimation work typically takes from 1 to 3 days to complete. With this in mind, ST Heating Services Ltd., firmly deliver on the planned schedule, giving you the confidence to plan for your every business need.
When should you install a commercial boiler?
There are signs to look out for when you must consider replacing your boiler. The sooner you recognise these, the less interruption and downtime your business will endure, therefore, saving you money and minimising loss of business.
Leaking boiler may lead to flooding.
Property not warm enough, even with the heating on.
Your energy bills inexplicably going up.
Boiler making unusual noises, a sign your boiler is struggling.
The boiler switches off for no reason and needs restarting regularly.
Why ST Heating ServicesLtd.?
When you need a boiler installation in Manchester and the North-West, our company are there for you. ST Heating Services Ltd., specifically aim to minimise any disruption to your business; therefore, our skilled engineers steadfastly deliver on the timeline given to you. We also provide an emergency call-out service 24/7, as well as other benefits including;
Expert heating engineers that can solve any heating issue
Fully compliant Corgi registered engineers
Industrial and commercial work
Servicing and maintenance
On the list of HM Government approved contractors for the NHS