Boiler replacement is quite a large and costly undertaking. There are a lot of different things that need to happen before you can even start installing the boiler system itself. All sorts of preparations have to come first such as choosing the new boiler and planning its installation and then you need to consider how best plan the actual installation to minimise any disruption to the operations of your business.
If you have chosen boiler replacement as the best option for repairing or upgrading your boiler system, then fitting a new boiler can be a significant undertaking. It is crucial from the start that you get everything just right so that boiler replacement does not end up costing more than it should, and so that boiler installation goes as smoothly as possible.
What is involved in fitting a new boiler?
Of course boiler replacement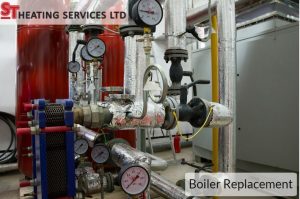 is not a job to be taken lightly, which is why it is advisable to use highly qualified engineers such as our team at ST Heating. Our boiler replacement professionals are experts in boiler installation and fitting, so you can be sure that your boiler replacement will go smoothly. The heating engineer will connect the boiler to your water pipes, radiators and cold water mains. The boiler should then be tested to ensure that everything is working correctly.
When boiler replacement is being carried out, it is important to take into consideration your boiler warranty, as boiler warranties can vary in length and boiler installations are generally expensive. Most boiler manufacturers only offer a one-year boiler guarantee, but some may offer up to five years.
How much is a new boiler and installation?
Buying the actual boiler itself is relatively inexpensive for a business. There are different models to choose, ranging from budget, mid-range to premium models. The boiler model used will depend on the work environment and characteristics required. It is also important to consider boiler installation costs, as they are more significant, but boiler replacement can be cost-effective over time compared with repair bills and boiler repairs.
How easy is it to replace a boiler?
Installing a new boiler replacement is a simple case of isolating and draining the systems, disconnecting the electricity and the thermostat, removing the existing boiler and installing the new one in its place. Usually, one engineer can easily complete this job in under a day. Changing your old boiler for the same type generally makes installation easier.
To find out more about our commercial and industrial boiler replacement services at ST Heating Services Ltd, please call us on 0161 279 0137 or email any enquiries to info@stheatingservices.co.uk.