At ST Heating Services Ltd we provide an extensive range of commercial plumbing and heating services for all types of businesses in Manchester and the North West, UK. Read on to learn more about what we do.
Installations
Whether you're refurbishing existing facilities or installing equipment in new build premises, our highly skilled plumbing and heating engineers will complete your project with outstanding professionalism. Our engineers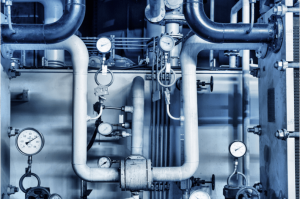 are Gas Safe registered and trained in health and safety legislation ensuring your new commercial kitchens, heating services or tenants' bathrooms are perfectly installed. A combination of efficiency, expertise and competitive rates offer quality and value, keeping your project in budget and on schedule.
Emergencies and Repairs
When systems malfunction in commercial premises the costs can rapidly escalate out of all proportion due to lost production or trade. Our team of plumbers and heating specialists can be relied upon to help your business restart with a minimum of delay saving you time and money. Their extensive knowledge of all types of systems including dual fuel burners, oil, LPG and gas means they'll be able to identify faults quickly and accurately. Our vehicles carry multiple components that enable all but the most unusual repairs to be completed immediately. The professional expertise of our engineers is reliable and reassuring in every crisis whether it's a leaking tap or a burst pipe.
Re-piping
If your commercial or industrial premises are decades old, hidden pipework could be suffering from rusting, hairline cracks or even damage from invasive tree roots. If you suspect a leak, prompt re-piping work by our specialist team will prevent the serious damage that would otherwise bring your business activities to an abrupt halt. The managed replacement of pipes manufactured from materials such as copper or steel can be scheduled to cause minimal disruption.
Maintenance
Our services include a cost-effective maintenance programme of regular inspections that keeps your systems and equipment in perfect working order. You'll gain the reassurance that your premises achieve an ambient temperature without the risk of carbon monoxide poisoning and avoid the possibility of costly emergencies. The high standard of our professional commercial plumbing combined with excellent customer services has attracted a long list of satisfied customers including local government, the Territorial Army and the NHS. Contact ST Heating Services Ltd for your free quote or to book an appointment.
Common Plumbing Problems in Commercial Buildings
If properly maintained, commercial buildings represent well-oiled machines that are able to accommodate the needs of countless businesses. Of course, these are also extremely complicated systems that must be maintained properly in order to ensure that they are functioning to the highest of standards.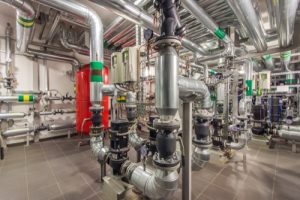 One issue involves plumbing problems that may crop up from time to time. What are some common circumstances that will normally require professional intervention? Let us quickly highlight three situations as well as what each entails.
Low Water Pressure
One of the reasons why commercial boiler installation services are often required involves water pressure that is no longer sufficient (particularly on the higher floors of a multi-storey complex). A large number of users at any given time can cause the system-wide pressure to drop; signalling that an upgrade may be required.
Clogs and Blockages
One of the challenges associated with commercial plumbing systems involves the fact that they are being used constantly. Thus, it is no surprise that they are subject to a significant amount of stress in terms of drainage. Organic materials and even office products such as paper can quickly lead to blockages within pipes. In such situations, the knowledge of an expert is required. He or she will be able to identify the source of the problem and to provide targeted solutions.
Leaks Associated with Fixtures, Faucets and Boilers
It only stands to reason that some elements within a commercial boiler system are more prone to breakdowns than others. Many of these are subject to physical wear and tear. Taps and faucets can leak. O-rings and joints may crack. There can even be times when an internal boiler tank fails; often requiring a professional boiler replacement so that hot water can be restored throughout the building.
The bottom line is that in-house solutions will often have difficulty addressing the problems mentioned above due to a lack of expertise, few available staff members or a combination of the two. This is why it is much better to speak with the team at ST Heating Services. We are more than capable of providing you with targeted commercial plumbing remedies.