We Meet All Your Commercial Heating Services Needs
Are you looking for commercial heating services in Manchester or the North West, UK? Look no further. We have all your commercial heating solutions. From heating equipment installations to after sale services, we are keen to make sure that our customers are satisfied with the services we offer. With ST Heating Services Ltd, your commercial heating problems will be a thing of the past.
When it comes to keeping your commercial space warm, we understand that this highly affects how the operation of your business is carried out. At ST Heating Services Ltd, we not only install new heating systems but also repair ones that have broken down no matter the brand. We are also only a call away when you need to do that heating system maintenance you have been postponing.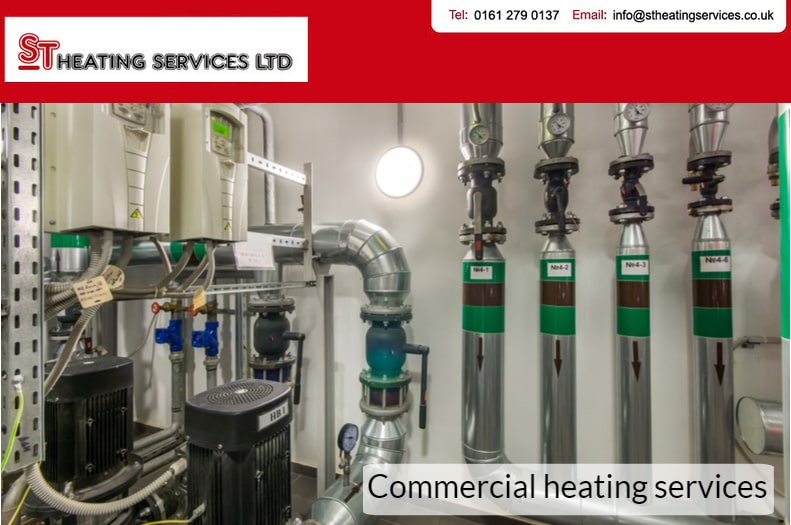 About ST Heating Services

Our team of well-experienced HVAC contractors is well equipped with the knowledge and hands-on experiences to make sure that you not only get the best commercial heating-services but also understand what the process is all about. We are open for consultations and always offer the best recommendations for any business size. We will help you regularly clean your heating equipment, repair it, and get you the best in the market when you need one. All these at a no hidden costs policy.
Advantages Of Hiring Our Commercial Heating Contractor
There are a lot of benefits that come with choosing ST Heating Services Ltd for industrial and commercial boilers, heating and plumbing services, repair and maintenance in Manchester and throughout the North West, UK. First, our team of highly experienced, and registered engineers and plumbers are only a call away and work around the clock to offer high-quality services. Secondly, our rates are very competitive in today's age and time. You will get all the value for every dime you spend.
We offer expert installations, making our work efficient which consequently means minimised downtime. Every time we get a call, our vehicles come fully equipped with all the tools and spares that might be needed for the work so less time is spent moving back and forth our centres. ST Heating Services Ltd is fully recognised by Local North West councils, Government Prison Service, schools, and other highly influential bodies in Manchester and the North West, UK. This proves that our work is of high standards which is a reputation that we aim to maintain.
Commercial Heating Experts

The next time you find yourself with a broken commercial heating system or you need a new one, call us on 0161 279 0137. You could also email us on info@stheatingservices.co.uk for any inquiries. Our aim is to make sure that the smile on our customers' faces are as warm as their commercial premises so that any visiting clients feel comfortable too.