Commercial boilers are more complex than ever. In an increasingly competitive market, companies are focusing on innovation and managing these complexities. While commercial boilers can be so complicated, they have similar components and perform a similar task.
Here, we answer some of the most frequently asked commercial boiler questions.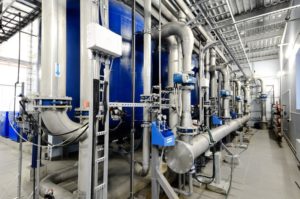 What is the difference between a boiler and a heater?
A boiler is a pressurised system that turns water into steam. The steam produced is used to transport heat throughout a building. A water heater, on the other hand, heats and stores water until needed. It is kept at a constant temperature and when it is needed, it is transported from the tank through pipes located in the building.
Are commercial boilers made of steel superior to boilers made of copper and cast iron?
Yes. Steel is a strong metal and has better resistance to mechanical wear than copper and cast iron. It is also durable and less brittle than copper and cast iron. Copper is thinner than steel and is less able to withstand extreme temperature fluctuations. Cast iron wears away gradually resulting in thinner walls and ultimately leaks.
Why Does My Boiler Keep Cutting Out?
There are many reasons your boiler could be turning off. These include low water pressure, a faulty thermostat, frozen condensate pipe, issues with the feed of fuel and lack of water flow. You can check to see what the problem is and address it.
If the problem persists, contact a service professional. A heating engineer from ST Heating Services Ltd can diagnose the problem and repair your commercial boiler.
How Long Should A Boiler Service Take?
A good boiler service should last approximately one hour. If urgent repairs are required then the check may take longer.
What Does A Boiler Service Include?
During a boiler service, a Gas Safe engineer will carry out the following practices:
Visually inspect the boiler to check that it still meets current standards and requirements. The engineer will also look for any leaks, rust or corrosion.
Remove the boiler casing to clean and confirm that the components are working correctly. Components that will be checked include the main injector, heat exchanger, burner and spark probe.
Check the flue to ensure the appliance is ventilated properly.
Inspect boiler controls to ensure that they are working properly.
Check the overall boiler installation to ensure the boiler was installed in a safe manner.