In this post, we take a look at what is covered within a commercial boiler survey with some frequently asked questions answered including why boiler surveys are important and what types of boilers can undergo a survey.
Why are boiler surveys important?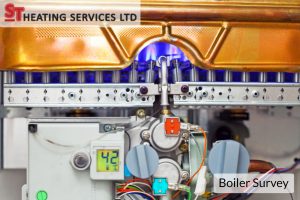 Boiler surveys are critical in the normal functioning and performance of thermal oil heaters and boilers. A general boiler survey involves checking any deformations; build up deposits, or any wastage of plate work. Also included in the check are the piping system and various other components of a boiler.
What are the types of boilers that can undergo a survey?
Boilers come in various shapes and forms. There are cylindrical fire-tube boilers, super-heaters, multi-tube boilers and various others. All these types of boilers need to be inspected annually because they are used to produce steam.
What are he areas involved in a survey?
It is paramount to see if the present installation is properly fitted. This process is important because it determines the overall output of the boiler.
The survey should also include a section that checks whether your boiler installation complies with government rules and regulations. The regulations set by the government ensure that the boilers are completely safe to use. When found in violation, you can face a hefty fine.
The third part of the survey should be about the economic viability of your boiler. It is imperative to assess if it is economical to maintain the boiler and restore any broken parts or if buying another boiler is best for you. All these are critical parts of the survey.
Additionally, the survey should shed some light on the energy efficiency of the plant room, the boiler, and any affiliated systems.
Lastly, the survey can help assess and determine how much replacing a boiler should cost. Further, the survey should include the costs of replacing parts of the boiler that are beyond any repair. You cannot simply replace a boiler or any constituent part blindly. The cost you incur might be too high.
What are the signs that your boiler needs replacement or servicing?
Boiler servicing in Manchester is straightforward and seamless. There are some indicating signs that you need to get a replacement or some repair done. The signs include:
Leaks – water and gas leaks emerging from the boiler are what you should look for first.
Logged filters – you should check to see if the filters are at optimal performance or clogged. If they are indeed clogged, you can call an expert.
A sound from the boiler – another sign of a spoilt boiler is the sounds that come from it. If the sounds are unusual and irregular, contact an expert.
Operating problems – if the output is not as it used to be or reduced due to various mechanical issues, you should contact an expert who deals in boiler servicing in Manchester or surrounding regions.
Benefits of choosing ST Heating Services Ltd
Boiler servicing in Manchester is effortless with ST Heating Services. We specialise in industrial and commercial boiler heating as well as plumbing servicing, repair and maintenance across Manchester and the larger North West Region.
Some benefits include
We are available day and night for any emergency that may arise.
We have a team of highly-trained experts.
Punctuality: our engineers are very timely on all appointments.
Book your survey today. Call us on 0161 279 0137 or email info@stheatingservices.co.uk.