Boiler & Heating Repairs Manchester
ST Heating Services Ltd offers a large number of plumbing and heating services including boiler repairs in Manchester. We take pride in the great finish and safety that we provide across all of our work. We offer boiler installation and regular maintenance for plumbing and heating systems carried out by highly skilled engineers. We also provide a reliable and complete plumbing and steam boiler repair service in Manchester.
We repair a wide range of systems such as:
Domestic, commercial or industrial Boilers and burners.
Warm air heaters.
Commercial and industrial boilers/heater.
Oil tanks, heating cabinet.
Commercial catering equipment.
Pumps, piping and radiators.
In both domestic and commercial environments, we offer the biggest variety of boiler repairs and servicing in Manchester & Swinton.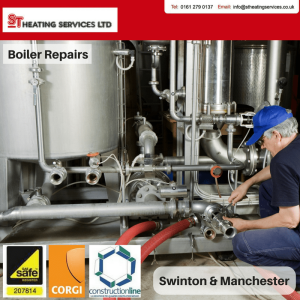 Looking for a trusted expert in heating and plumbing repairs can be daunting as there are lots of plumbers to choose from. It can be difficult to know who to choose. We aim to put your mind at rest at all stages giving you open, honest quotes and a professional, friendly service. Our plumbing and heating repair quotes from our engineers are itemised so that you can see exactly how your money is being spent and so that you can compare our quote with others efficiently. Our quotes reflect value for money as well as being competitive.
We only use the best materials and the most experienced plumbers in Manchester. We give value for money and a product that is built to last. We aim to leave you confident in the safety and reliability of our work.
We at ST Heating Services Ltd are on the approved list of repair contractors for a large number of associations and services including the NHS North West Division, North West Government Prison Service, RFCA, TA North West & The Isle Of Man, Local North West Councils, schools, small and large businesses and local government departments in Greater Manchester and the North West.
Our reputation for safety and the high quality of our work leaves people confident enough to officially endorse us. So when you need your boiler repairing, you are in safe hands as each one of our qualified engineers are gas safe registered.
We have an excellent track record for the standard of work we provide. We also have a reputation for the best customer service in plumbing and heating services. We are always respectful and polite to you in your home or place of business. We put great emphasis on our professional attitude. We are reliable, punctual, and we are always happy to answer questions on the work we are carrying out for you.
Emergency Boiler Repair Manchester
If you're in need of emergency boiler repair in Manchester, contact us for assistance. For heating or plumbing repairs anywhere near Manchester – including either domestic, commercial or industrial boilers in Manchester or Swindon, give us a call on 0161 279 0137 or email info@stheatingservices.co.uk. We can talk you through the plumbing and heating repair services that we offer and why we are the best heating and plumbing repair company in the North West of England.